The Sandbox: "Flower"'s Video Game Poetry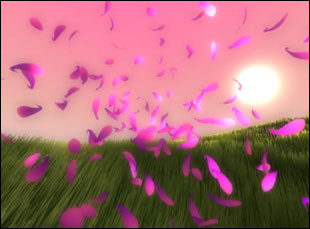 Posted by Nick Schager on
Though it sounds strange to say, few games have ever provided the rush that "Flower" does. The third release by thatgamecompany (TGC), "Flower" is a downloadable PS3 game that provides a two-hour ride over open plains and through deep canyons. You use the console's Sixaxis motion controller to direct a current of wind that, along its journey, accumulates flower petals. You tilt the control, and the wind tilts with you, a mechanism only complicated by having to push a button (any button!) to spur the wind forward. In the six levels, all obliquely cast as a flower's "dream," you're asked to touch, and collect, petals with the ability to animate the environments around you, ones crafted with an eye toward evocative detail (the sway of grass, the range of colors, the shifting temperament of the weather) and scored to a delicate combination of melancholy music and twinkling sound effects. Sounds "artsy"? It is, a status advanced by devoted fans like "Pan's Labyrinth" director Guillermo del Toro, who said it's "like Haiku poetry." Don't let such yucky, fawning praise dissuade you. On a purely sensory level, this daring title is more stirring than almost anything found at a mass retailer, imparting a heady blast of sensations — of flight, of blooming, of birth, of renewal — via a simple, abstract experience.
Founded by Jenova Chen and Kellee Santiago, the SoCal-based TGC has made its name with three games — the PC's "Cloud," and the PS3's "flOw" and "Flower" — that attempt to expand the boundaries of what games can do and what they are. TGC is at the forefront of a growing indie game movement fostered by the major consoles' new online distribution channels, which can deliver not just supplemental material for major titles, but also idiosyncratic stand-alone products aimed at niche audiences. And that's how one might describe "Flower," which has no avatar to embody, no enemies to kill and no concrete narrative to complete. Well, maybe that last point is debatable, especially with regards to the game's later levels, but we'll get to that. What's most notable about "Flower" is its ability to generate intangible emotions through its simple conceit. A surprising swell in the chest greets your first go-round with the game, which induces a potent feeling of limitless freedom, of being unshackled, thanks in part to how the controls create a tangible, tactile relationship between user and content.
If I sound enthusiastic about "Flower," and I am, it's because TGC's latest is that rare instance in which familiar gameplay mechanics — touching a series of objects to unlock challenges; motion controls; cut-scene clues — work not to further a traditional plot but instead to elicit primal emotions. Calling it a "zen" game, as many have, is apt when looking at its first four levels, which are pleasantly tranquil, requiring the player to coast through a windswept field, a windmill-peppered valley, some ravine-marked terrain and a nocturnal countryside dotted with bales of hay and lampposts. That peacefulness, allowed to flourish by a conceit that initially avoids burdening itself with overt meaning, has led many to make "Flower" a case study in the ongoing "games as art" debate, as it (like "Braid") self-consciously employs, and manipulates, time-honed formulas to stimulate both the head and the heart.
"Flower" is another heartening example of how games are evolving. But it's not, despite the praise I've just showered upon it, a revolutionary triumph, or really even a complete success when judged on its own terms. Considering how moving the game's opening sequences are, it's easy for enthusiasm to give way to exaggeration, a situation that's plagued many critical assessments of TGC's Little-Download-That-Could. But as it moves from levels of serenity to those of ominous darkness, progress that's mirrored by the gradual revelation of a guiding story, "Flower" loses its way, forgoing what made it so compelling in favor of delivering an experience offered by a bounty of on-rails shooters and platformers ("Sonic the Hedgehog"'s coin-collecting, tube-navigating race sequences being a direct influence) that gamers have been playing for the better part of the past 20 years.