The King of Pop, Johnny Depp, Human Nature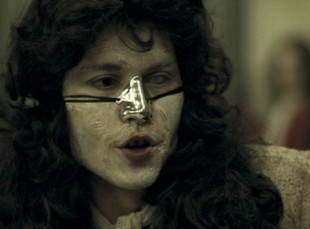 Posted by Brandon Kim on
It's no secret Johnny Depp loves to play freaks, and he plays them brilliantly. Poor pale Edward with scissors for hands, nerdy Ed (Wood) obsessed with cheap horror, Bon Bon the Cuban transexual drug smuggler, the extremely queer Willy Wonka.
If his adoring babe fans met one of his film characters in real life they wouldn't even give him a chance to introduce himself. There are a few exceptions, like his pre-syphilis Earl of Rochester in "The Libertine" (whom it's no secret I've been modeling myself after on weekends = fail), but of course if Johnny plays a slick pimp like Rochester, he has to end up ghastly pale and his nose has to be falling off by the end of the film.
(Johnny Depp's syphilitic Rochester in "The Libertine")
So it's not surprising that rumor is spreading that he's a top choice to play Michael Jackson in a biopic that you know suits were stabbing each other over before the King of Pop's body was even cold. Contactmusic reported that "an insider" said both Jamie Foxx an Johnny Depp were being considered depending on decisions made in the Jackson family about how to proceed. Then there's some idiot celebrity gossip blogs crapping out letters that somehow form words, but barely sentences, that imply Depp spoke positively about the possibility of such a role (which I will not link, they will only hurt your eyes).
Poppycock I say. Anyway in the same article that reported the "insider" Depp is quoted saying "No no no, I never ever thought of playing Michael Jackson in a film, I think if anyone should play Michael Jackson in a film it should've been Michael Jackson." Damn right Johnny, I couldn't agree more. Dial up some "Moonwalker," a bucket of popcorn and call it a day. But a biopic is inevitable, it's human nature.
Who would really play Michael, and mean it?

Human Nature, Michael Jackson