Philip Glass, Robert McNamara, Transcendent Man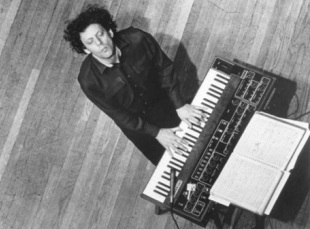 Posted by Brandon Kim on
I was raised to think guys like former brainiac defense secretary Robert McNamara, who died last week, were heroes. Then I got an education and found out he was just a sad old dick who pumped up the military industrial complex machinery with each and every ordinance-heavy scheme he conceived from the indulgent end of World War II through the colossal fail that was Vietnam. It's clear now that he was just a servant of hegemonic momentum, lost and churned up in a war machine too complex to navigate.
If one can be momentarily removed from that born and bred nurturing sense of nationalism, it's also clear he was what's called a war criminal. Look no further than the facts, or the admissions in Errol Morris' brilliant documentary "The Fog of War." But instead of making me despise him more, that film made me empathize with the poor bastard and I'm certain Philip Glass had something to do with it.
Philip Glass is already one of the most influential composers of this century and has bridged the gap between pop music and classical, bringing the latter to legions of uncultured punks (like me). You could take a film about the bowel movements of Paul Wolfowitz, set it to Glassworks and it would seem important. The man could score his way out of a Uwe Boll film.
You may have missed it in the trainwreck soundtrack of "Watchmen," but Glass compositions were used for the character Dr. Manhattan, one of the few great uses of music in a film burdened by a heavy hand. Next up should be another documentary, called "Transcendent Man," a film about Ray Kurzweil that premiered at Tribeca earlier this year and still awaits release. I'm sure the Glass score will outshine the annoying 24-hour cable style bits of narration prominent in the trailer.
For nostalgia:
If you happen to be in Prague tomorrow, Philip Glass will be performing an evening of chamber music at the Prague Congress Centre.