Night Fever: The World of Obsessive Fan Movies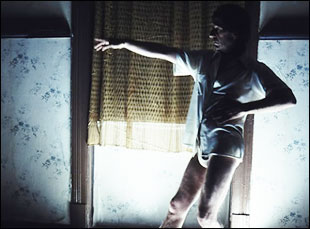 Posted by Matt Singer on
A crowd eagerly watches as a man dressed in a white suit performs an elaborate disco routine to the sounds of the Bee Gees' "You Should Be Dancing." Sound familiar? It should; it's the signature sequence from 1977's "Saturday Night Fever." But now the scene belongs to another film as well, "Tony Manero," named after John Travolta's Brooklyn disco king character. In this version, a middle-aged "Fever" fanatic named Raúl Peralta (Alfredo Castro) appears on a Chilean TV show and reenacts those famous dance moves as part of a contest to determine the country's best Tony Manero impersonator. Raúl's impoverished struggles in late '70s Chile resemble Tony's in late '70s Brooklyn (a reason, no doubt, he responds so strongly to "Saturday Night Fever") with one crucial difference: where Tony strains against obstacles he encounters, Raúl simply removes them. If that obstacle happens to be a person, he kills him. Raúl's violent activities and compulsive need to reenact every facet of Travolta's routine, from the number of buttons on his slacks to the flashing lights of the disco floor beneath him, makes "Tony Manero" the latest and quite possibly the most unsettling entry in the subgenre of creepy movies about obsessive fans. In order to understand why it's so uniquely scary, we've got to first consider its predecessors.
Traditional obsessive fan movies grow out of a subcategory of thrillers involving stalkers, where an innocent invites a seemingly harmless person into their life, never suspecting their new friend or lover is a deranged, homicidal maniac until it's far too late. One of the earliest archetypal films of the stalker genre is an obsessive fan film as well: 1971's "Play Misty For Me," directed by and starring Clint Eastwood. He plays a Dave Garver, a late night disc jockey at a jazz station in Carmel, California, where each night he provides "a little verse, a little talk, and five hours of music to be very, very nice to each other by." A woman calls Dave every night asking him to "play 'Misty' for me," and one night at a bar, Dave picks up a woman named Evelyn (Jessica Walter) without immediately realizing the two are one and the same. Dave thinks of Evelyn as a one-night stand; Evelyn thinks otherwise. She takes out her frustration on Dave's cleaning woman, and later on his girlfriend, Tobie (Donna Mills), which leads Dave to race in his car to save her, with Eastwood suggesting the character's fragile mental state by intercutting the sequence with shots of Evelyn slashing a portrait of Dave's face with a butcher knife. The terror of the Evelyn character comes from her persistent insinuation and a kind of curdled fake politeness strangers mistake for the real thing.
For fans like Evelyn, it isn't enough to meet their idol; they need to possess him forever. It's a truly queasy thought, but this desire to materialize and memorialize is at the core of many real world fan-artist relationships. We've all swooned over a film or a book we've loved, and a lot of us have tried to recreate that first giddy high by repeatedly rewatching the movie, or collecting the action figures, or completing the set of "Star Trek" collector's cups from Burger King. In obsessive fan movies, the need to possess is often giving extreme expression via the act of kidnapping. A famous example is 1990's "Misery," where James Caan's novelist Paul Sheldon is rescued from a near-fatal car wreck by his biggest fan, a seemingly cherubic nurse named Annie Wilkes (Kathy Bates). As Annie tells it, the roads are blocked by the storm, the telephones lines are down, and anyway, Paul's legs are too injured from the crash to move to a hospital, so it's up to Annie to nurse Paul back to health in her spare bedroom. Most of this is malarkey, invented by Annie because of her fixation with Paul's popular series of romantic historical novels about a character named Misery (her mantle is practically a shrine to them, with a signed picture of the author flanked by two stacks of novels).