Jeff Bridges, Crazy Heart, T-Bone Burnett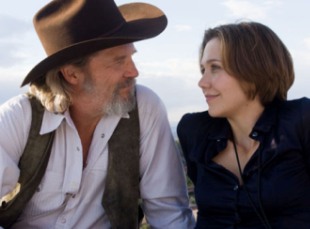 Posted by Brandon Kim on
Jeff Bridges, one of the finest American actors of all time, will star as an old school country singer in "Crazy Heart" based on the book of the same title. When I first caught wind of this musically inclined project I thought it was more along the lines of this, and I'd trade all the liquor soaked cowboy hats in the world to make it so.
Still, there's much to look forward too with the film as is. Colin Farrell co-stars and though he clearly had his beginnings as a dbag, somewhere between playing a gay ancient Greek womanizer, and a really hopeless hitman, he found his voice. Maggie Gyllenhaal who was terribly miscast in "The Dark Knight," will probably turn in something great here. I ran into her once when I ducked into a cafe in Manhattan during a rainstorm, cursing to myself and wringing out my drenched shirt. It was a white linen shirt, so it was completely see through and queerly suctioned onto my body when I turned to regard the woman, Gyllenhaal, sheltering near me. I felt really vulgar and naked and said nothing, but just dripped there for a moment and then ordered an espresso. The great and out of control, Robert Duvall also stars.
Furthermore, there's hope for the music with songwriter and record producer T-Bone Burnett doing the score. Burnett also scored "Walk the Line" and "O Brother, Where Art Thou?" While I consider myself a country music fan in the old Dolly Parton/Kenny Rogers and the First Edition/Waylon and Willie sense, I can't stand modern country. I think T-Bone Burnett understands the difference and there will be something about this soundtrack worth a wink and a tip of your hat.