The Sandbox: iGaming (and the 10 Indie iPhone Games You Need to Check Out Now)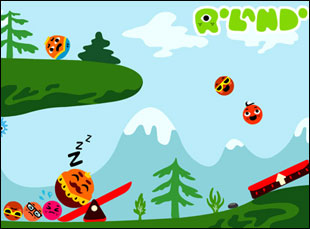 Posted by Nick Schager on
The iPhone will soon rule the world, and, thanks to the App Store, that goes for the gaming sphere as well. Apple's venue for smartphone applications of every variety that now boasts upwards of 10,000 different games, many available for free and plenty of others for five bucks or less. Couple that range of choice with the iPhone's impressive graphics capabilities and speed (especially in the new 3Gs) and its touchscreen and motion-detection interface, and the device is poised to make — and, really, is already making — enormous inroads in a mobile gaming market previously dominated by the Nintendo DSi and, to a far lesser extent, the Sony PSP. And in a welcome twist, much of that traction is thanks not to mainstream publishers, but to indie developers.
It's easy to see why indie titles have flourished, at least in terms of accolades, if not always sales, on the iPhone. The iPhone allows for two main methods of interactivity: you can touch or swipe the screen, or you can shake or tilt the entire device. Because of this, it's often not well-suited for direct ports of popular PC and console games which were been created with either a keyboard or multi-button handheld controller in mind. Playing something like the Xbox/PS3 smash "Assassin's Creed" on the iPhone feels forced and unnatural, an experience that extends to many AAA titles that have been shrunk down to palm size.
Even the Babe Ruth of mobile games, "Tetris," which addicted millions on the Nintendo Game Boy, has made what's at best an uneasy transition to the iPhone, since spinning and dropping falling blocks is just less smooth when you have to do it by tapping the screen at the side of a block to turn it. Credit "Tetris" publisher EA Mobile with working with what they had, but it's a far cry from ideal.
For the most part indie developers face no such hurdles, since so many have made games exclusively for the iPhone. And because of that, the results have often been fantastic, especially in genres — like strategy, card and puzzle games — that rely more on simple, precise mechanics than on lightning fast reflexes. Take "Trism," a game developed by one man, Steve Demeter, that reportedly netted $250,000 in profits during its first two months of release. Similar to "Bejeweled," the object of this excellent puzzler is to slide rows of multicolored triangles around a board (with your finger) to create matching-colored diamonds. When you makes a match, the diamonds disappear and the remaining pieces slide into place (in a direction that depends on the position you're holding your phone). "Trism" throws in a variety of tough obstacles to make gameplay more complex, but its the game's intuitive accessibility and addictive playability that continues to make it one of the budding system's must-haves.
If puzzle games aren't your thing, the iPhone has countless other styles sure to suit your needs. For aficionados of "tower defense" — a genre in which you place defensive devices (guns, laser blasters, rockets, etc.) around a landscape in an attempt to protect a base from hordes of incoming enemies -0 there's simply nothing better than "Fieldrunners." a Subatomic Studios production (and winner of Best Mobile Game at this year's prestigious Independent Games Festival) in which you strategically deploy Gatling guns, goo cannons, missile launchers and lightning zappers on a rectangular stretch of land to prevent adversaries from reaching a path. It's a perfect example of how simplicity in premise and design figure in to the greatest iPhone games. Throw in sturdy graphics and a couldn't-be-easier control scheme in which you drag weapons to desired locations (and click on them to upgrade their firepower capabilities), and "Fieldrunners" stands as the best effort yet in an increasingly overcrowded iPhone game category.