Harry Potter and the morphing super fun film score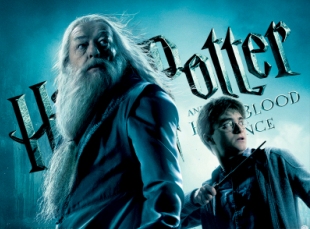 Posted by Brandon Kim on
It's always interesting to hear how scores evolve over the course of a film franchise, how they adapt to changes in the continuing saga while retaining some flourishes of the original themes. The "Jaws," Indiana Jones, and James Bond franchises come to mind as highlights, and though dramatically flawed at points (though I believe "Casino Royale" to be a triumph), they've left their mark with unforgettable scores. Waiting for the scene where that tell-tale tune plays and listening for how it's changed with each release is part of the fun.
It helps to have a great beginning and the Potter series certainly had that with John Williams starting it all off with the score for "Harry Potter and the Sorcerer's Stone" in 2001. He continued to score the two subsequent films (Chamber of Secrets and Prisoner of Azkaban) until "The Goblet of Fire" when Patrick Doyle ("Henry V," "Gosford Park") took over.
Then with director David Yates and the last film, "Order of the Phoenix," came composer Nicholas Hooper. He doesn't have a hell of a lot of titles or project names I can drop, outside of some work for the "Nature" series, but then I'm not much of a TV guy. It's clear he worked with Yates, who also comes mainly from TV, on some of his first feature work in the early 90's and they make a good team.
Williams' original work was brilliant. His main theme is a twinkly warm feeling that blooms like Macrocarpaea apparata, sprouting from your really comfortable theater chair, tickling you in the dark. Hooper carries the feeling on admirably, even skillfully darkening the tones for the decidedly darker turns taken by the story as the characters age and the plot thickens.
Check out these snippets – the first is the original Williams theme. The second is a composition of Hooper's from the latest release, "Harry Potter and the Half-Blood Prince," that has some of that original melody woven in (after about 15 sec of this clip).