G.I. Joe: the FAIL of jock entertainment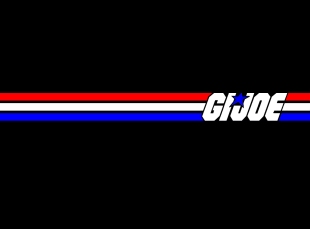 Posted by Brandon Kim on
G.I. Joe was the best thing a kid could have in the early 80's, even better than the other toy/cultural giant, "Star Wars," shocking as that may sound. G.I. Joe was an awesome toy line driven by a TV show and comic books, even a movie. "Star Wars" was a movie (or movies), supported by a toy line. While those film releases were colossal events, they were separated by vast stretches of time, whereas G.I.Joe came on every single day, as soon as you got home from school.
It should be no wonder then, that it's very special to a generation of fans who collected the comic books, watched the cartoon every day, and coveted a literally unending series of superior swivel-arm battle grip action figures, and cool real-world based vehicles. I still hear the G.I.Joe theme song in my head sometimes, and instinctively begin pining for fruit roll ups and that hot, bespectacled Baroness.
So where's the G.I Joe we all grew up with, the one we love? It looks like it might be buried under ugly "Iron Man" rip-off costumes, weak casting and way to much testosterone even for G.I. Joe. Although, Cobra looks kind of cool. Stormshadow and Snake Eyes look suitably bad ass, if a bit to high-octane. Is everyone on crystal meth?
Alan Silvestri is the composer, and while he might have some dope scores ("Predator") his recent work with "Rise of Cobra" director Stephen Sommers just sounds like everything else. They have been a frequent team, and not always a good one… "Van Helsing" was one of the wost movies I've ever seen. It was so lame and in your face at every exploding meth lab turn. I get the value that extreme sporto entertainment can provide sometimes, after all I was once a Ronnie Raygun, violent American boy too. But are they dumbing down G.I. Joe? I would not have thought that possible.
And where's the damn song? Silvestri, there better be the sweet scene where you slip in nods to that beloved tune. It's the least you guys could do.
Broke:

More like it: