Comic-Con: "Iron Man 2" and Other Funny Business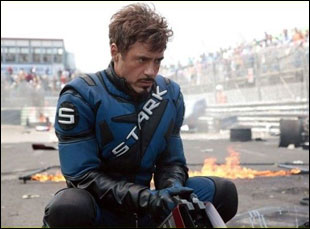 Posted by Stephen Saito on
Usually, it's the crowds at Comic-Con who are calling "bullshit" during the panels, but it was Robert Downey Jr. who pulled the BS card on Jon Favreau when the director introduced footage for "Iron Man 2" and presented what looked like a cheesy commercial for a used car lot blowout with glimpses of the new film. "What was that unadulterated garbage I just saw?" Downey complained as he walked onto the stage to huge cheers. "You showed me better stuff in the editing room." Though Favreau protested that "Iron Man 2" only wrapped a week prior and nudged Downey into leading the 6,000-plus crowd into singing "Happy Birthday" for his eight-year-old son, he did ultimately relent and show a solid five minutes worth' of footage that began with Tony Stark chomping on a donut while sitting inside the hole of the famed Randy's Donuts sign in Los Angeles and ended with an all-too-brief glimpse of Don Cheadle firing on all cylinders as the metal-clad War Machine.
As the clip started, it appeared that Stark was more disheveled than where we last left him, with a five 'o clock shadow to accompany his goatee. After some coffee talk with Nick Fury (Samuel L. Jackson), we learn that Tony's been having problems with the government, primarily with Sen. Stern (Garry Shandling), who's holding investigations with the intention of getting Stark's Iron Man suit in the hands of the Uncle Sam, to which Stark replies, "I've successfully privatized world peace." After Shandling's senator dropped a bleeped out F-bomb in Stark's direction, the clip continued to show his other primary nemesis, the Russian Ivan Vanko (Mickey Rourke) as he pounds out his own metal suit, complete with electrified whips wrapped around his arms that he begins to throw around with abandon on a race track. We were also introduced to brief shots of Scarlett Johansson grappling with unidentified men and Sam Rockwell's Justin Hammer, a lollipop-sucking arms dealer who at the end of the clip hovers over an iron suit and strikes a deal with Col. James Rhodes (Don Cheadle, taking over the role from Terrence Howard) for a full arsenal of firearms, with the last shot of the footage showing War Machine letting loose his guns in full glory.
"That trailer blew my mind, actually," a sheepish Rockwell said, reflecting the mood of the audience after the lights went up and the applause finally started to die down. The fact that Rourke couldn't attend thanks to scheduling conflicts didn't stop him from being the star of the panel, with Downey kicking off the praise for his co-star by saying, "I thought I was eccentric. He's something else." But after everyone concurred on how much they liked working with Rourke, Favreau further burnished the legend of "The Wrestler" star by telling an anecdote about Rourke traveling to Russia as soon as he learned he had the part and informed him that part of his background was serving prison time there. "The next thing I heard, he was in a Russian prison," Favreau said. "I had to learn by TMZ — and not for a crime or anything. He chose to go there. And apparently the first American film they got in Russia as a result of Perestroika was '9 1/2 Weeks,' so he's a sex god in Russia…" Without missing a beat, Downey cut to the chase with "And where do you want to go if you're a sex god in Russia besides the prison?"
Sex was also, not unexpectedly, on the mind of Kevin Smith, who had the unenviable task of following up the "Iron Man 2" fervor, as one fan of his made sure to bring up during a Q&A that, like his many "Evening With Kevin Smith" appearances, felt more like a conversation amongst friends. Even Smith couldn't get away from the "Twilight: New Moon" bug, reinterpreting all the footage he saw on YouTube from the Con in his own unique way (which made him "feel the whole room get moist") and lamenting that since he only had a brief window of time away from shooting his latest film, the Bruce Willis-Tracy Morgan buddy cop comedy "A Couple of Dicks" in New York, he couldn't get his daughter any "Twilight" swag. In response, a fan named Mike came through with a bag with the "New Moon" poster image that his wife made for her friends, which led to Mike getting to sit onstage with Smith as Smith conducted the rest of the panel and even paused to give Mike a backrub.
Yet Smith also took time to share a few tidbits about the future of his own career and his associates. His longtime producer Scott Mosier is apparently writing a script for an action movie that's like '"The Bourne Identity,' but better," while dealing with a potential title change on Smith's "A Couple of Dicks," since, as Smith explained, the big three networks (ABC, CBS, NBC) wouldn't run an ad with that title until after 9 p.m., leading Smith to complain that "[Janet Jackson's] boob still haunts me." He also ticked off the status of his horror film "Red State" ("still looking for financing"), the superhero comedy "Ranger Danger and the Danger Rangers" (the script's half-finished) and his hockey spoof "Hit Somebody," based on a Warren Zevon song co-written by Mitch Albom, that looks like it'll be his next project — he wrote the film's ending on his iPhone during his plane flight to San Diego. Smith also mentioned that he's turning his unmade "Green Hornet" script into the basis for a series of comic books published by Dynamite, and admitted that after the middling release of "Zack and Miri Make a Porno," he fell into a deep depression that's fueled a new love of weed (which has given him a whole new appreciation of his earlier films that he made under no such influence, saying "All those years of making stoner comedies, I wasn't [a stoner]. Now, I don't make them and I am!").
The aftereffects of drugs also got the biggest laughs at the "Extract" panel, where both the trailer to the Mike Judge comedy that ends with Jason Bateman exhaling a giant cloud of smoke and a clip of Ben Affleck accidentally giving a horse tranquilizer to Bateman definitely earned the audience's approval. Although Judge explained, "I'm really bad at pitching movies, as you might've noticed," he acquitted himself admirably as the audience asked him questions about his worst job (he named three: "Jack in the Box, chainlink fences and alphabetizing orders"), how he got "Idiocracy" made (he owed Fox a script and "out of all the ideas I had, that's the one they said was commercial") and if he would he ever consider playing a Bond villain ("Yes, definitely."). He also recounted a story about how he named one of his most famous creations after a football player at a rival high school whose last name was Beavis and how, ten years ago, his sister sent him a newspaper clipping about Beavis petitioning to change his surname.
Judge was accompanied by Bateman and co-star Mila Kunis, but not Kristen Wiig, who's currently shooting Greg Mottola's comedy "Paul" with Bateman, yet couldn't join him on the flight to Comic-Con because of work obligations. When Kunis complained that she's starred in three movies with Wiig without actually ever being in the same scene as her, Bateman relayed Wiig's comment about Kunis after showing her some promotional "Extract" photos, "She's so goddamn pretty…I'll never be in a scene with her." Bateman went on to propose that Judge form a repertory company like Christopher Guest to make comedies every 18 months and, when asked about his own worst job, deadpanned, "Everybody knows how to access IMDb — just throw a dart." ("Arrested Development" fans should also take heart that Bateman confirmed that a movie version could be as "early as six months away to as late as 18 months," but not dead by any means).