Comic-Con: Wild Things, "Hex" and Miyazaki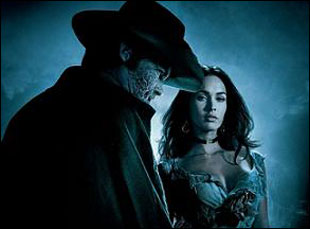 Posted by Stephen Saito on
"This is getting weird…I like it," Josh Brolin said midway through the audience Q&A of Warner Bros.' presentation of "Jonah Hex." Sitting alongside director Jimmy Hayward and co-stars Michael Fassbender and Megan Fox a mere 48 hours after the film wrapped production, Brolin was clearly enjoying the moment, teasing the audience that the only comic book he read as a kid was "Richie Rich" when asked if he was a fan of "Hex"'s source material and smirking after five minutes of footage showed his scarred cowboy twirling six-shooters and tossing pickaxes at anyone who mocks his appearance. As Brolin emphasized, the film "looks as if it cost $70 million, but cost less than half" that amount, mainly because "there's a circus element to it" and the cast, which includes John Malkovich, were in it "truly for the love of insanity."
That extended to Fassbender, who plays Malkovich's main henchman, and who could be seen in the footage actually whistling "Dixie" before blowing up a train. He told the crowd, "I really should've killed [Megan Fox], but they wouldn't let me" in a way that left many wondering if he was kidding. Fortunately for WB's PR department, most of the questions were directed towards Fox — more comments, really, about how she "glistens and glows" and such, though when one video camera-wielding attendee's mic was cut when he began to ask if she would make a sex tape. Fox played into it a little bit, turning one comment about how hot she is into a question about the physicality of the stunts in the film and said how she asked Fassbender in their fight scenes to "beat my ass," to which a quick-witted Fassbender jokingly shot back, "I said, leave your fetishes at home. This is work."
It should be mentioned that some of the biggest stars at Comic-Con aren't sitting on the dais — they're the dedicated fans that wait all year to step up to the mic during the Q&As and do so at every panel, regardless of the talent onhand. This year has been dominated by five or six distinctive personalities, who typically introduce themselves before firing off a question and mug for the camera that projects them onto the huge screens in Hall H — these include the identical twin brothers who asked Mila Kunis what it was like to work with twins (directors Allen and Albert Hughes) on "The Book of Eli"; Robert, an intentionally sleazy character in a pink shirt, a red tie and a pencil mustache who addressed Cameron Diaz during "The Box" panel with greenish fake semen dangling from his ear (Diaz didn't notice); Anthony, the excessively flattering San Diego State acting student who took his compliments to a new level with Tim Burton by explaining he laid roses on the grave of his late mother in the same way Bruce Wayne did in Burton's "Batman," and has been booed for his long-winded compliments to other panelists ever since; and the Jheri-curled gentleman with a faded baby blue "Star Wars" tee whose awkward moment asking Burton whether the director recognized him was only outdone when the audience booed him en route to asking Tyrese Gibson a question during the "Legion" panel. Gibson, acknowledged him by raising his water glass and proclaiming him "a Comic-Con legend."
Another instant legend was made when Warner Brothers began their panel with a look at Spike Jonze's notoriously difficult adaptation of Maurice Sendak's "Where the Wild Things Are." Though Jonze didn't make an appearance and WB put together an unusual introduction featuring Jonze, Sendak and screenwriter Dave Eggers explaining how they "refanged" the story for the film (some of which can be seen in the new featurette online here), it was up to the young wide-eyed lead, Max Records, to charm the audience, which he did from the moment he stepped on stage and said, "I've never really done anything like this before, so I might just be, like, reading things off my hand." He didn't actually resort to that, candidly repeating how Sendak told him on his birthday that he "hopes a lot of people like this movie because if not, they can all go straight to hell." Another anecdote about Jonze's affinity for propane tank explosions when trying to get emotional reactions from the actors got the crowds primed for something truly propulsive — three scenes from the film that each generated tremendous applause, even though they were clearly building towards something far larger.
In each of the scenes, there was a naturalism reminiscent of a Kelly Reichardt film, but with a restlessness that only a filmmaker like Jonze, who's always come off as an overgrown kid, could pull off. The first and third centered on Max's relationship with Carol, the James Gandolfini-voiced Wild Thing, who gives Max the lay of the land in one scene, telling him that he rules as a king over most (but not all) of the countryside in front of him before the two engage in a serious discussion about the potential death of the sun; in the third scene, Max watches as Carol begins to break down boulders into stones that they can use to build a fort. But it was the second scene that was the most emotionally wrenching — in it, Max is running amok when the Wild Things begin to playfully pile on top of each other, turning a moment of innocent fun into something dangerous and scary as he appears to be close to suffocating with these massive Wild Things on top of him. Once he's able to burrow out, he finds himself face to face with KW (voiced by Lauren Ambrose), a Wild Thing whose warmth is palpable even though she wonders aloud whether he ate his family after he tells her he hasn't seen them recently. All of the scenes shared a rhythm and a tone unlike anything Jonze has ever done before — slow burning and more contemplative than quirky — and it was interesting to consider something Sendak said in the video introduction, which is that Jonze is approaching this at around the same age as when Sendak initially wrote the book. From the glowing audience response, it was clear, however, that if Warner Brothers was still wondering who their audience was for this film, they found the true believers at Comic-Con. (There's at least a small vote of confidence in the announcement that it will be arriving in IMAX theaters come October.)
There was also magic in the air during Disney's presentation, which included sneak peeks of 3-D versions of "Beauty and the Beast" and "Toy Story" 1 & 2, as well as a cute promo for "Toy Story 3," with the news that Michael Keaton will voice a Ken doll to accompany Barbie in the threequel. (In the promo, the Keaton-voiced Ken submits himself to a faux '70s era fan club video called "Groovin' with Ken," where the sandy blonde gives a tour of his Dreamhouse and can't keep his sunglasses from sliding off of his plastic head or his temper in check as an omniscient interrogator asks him more and more embarrassing questions like "Does it bother you that your name is eight times smaller on the box than Barbie's?") Yet the biggest applause was reserved for Hayao Miyazaki, Introduced by Pixar's John Lasseter, the legendary Japanese animator made a rare U.S. appearance to plug his latest film, "Ponyo," and said a few words through a translator, even though he was asked plenty of questions about his extraordinary hand-drawn features. Miyazaki's funniest response came when he was asked by Lasseter about how he gets an idea for a film, saying simply, "My process is thinking, thinking and thinking. If you have a better way, let me know." But he also had a little fun when he and Lasseter were each presented with Comic-Con's Inkpot Award, which is given as a lifetime achievement award for contributions to pop culture, and asked about the Inkpot-shaped award, "Could we use this ink?"
Odds and Ends We Didn't Know Before Day Three of Comic-Con:
1. "There was a baby oil drought in Albuquerque…"
…At least during the filming of the apocalyptic action film "Legion," according to Tyrese Gibson, who mercilessly teased co-star Paul Bettany about his toned muscles and how the makeup crew emphasized them for his turn as a gun-toting archangel who must protect the unborn child "that is the future of mankind." Gibson joked, "I think Johnson and Johnson sponsored this movie." The film's director Scott Stewart reported that on the first day of shooting where they armed Bettany with an MP5 and an M16, the classically trained actor squealed, "I was in the Royal Shakespeare Company, but this is why I wanted to be an actor!"
2. Peter Jackson owns a bigger air force than the New Zealand Army.
To be taken with a grain of salt — the confession came during the conversation between the "Lord of the Rings" director and James Cameron, as the latter talked about the extinction of certain film techniques and compared them to the use of biplanes — which Jackson apparently has become quite the collector of.
[Additional photos: Max Records in "Where the Wild Things Are," Warner Bros., 2009; "Ponyo," Studio Ghibli, 2008]