Reinventing the Superhero for Bollywood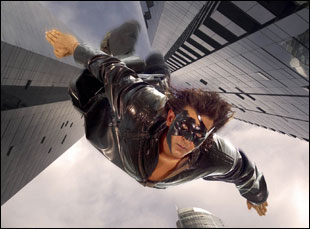 Posted by Matt Singer on
The highest grossing movie in Hindi film history is 2008's "Ghajini," the story of an amnesiac who carries out his revenge against the people who killed his beloved with the help of an elaborate system of Polaroid pictures and tattoos. Sound familiar? "Ghajini" is actually a quasi-remake of Christopher Nolan's "Memento," one of Bollywood's many unauthorized, Indianized editions of Hollywood films, which include everything from "Jagged Edge" to "Powder" to "Fight Club." Being a huge nerd, my first thought when I discovered the American influence on Indian cinema was: what does a Bollywood superhero look like? Turns out the characters themselves closely resemble their American counterparts, though their movies bear some striking differences.
In India, superhero flicks are also very much masala films, which freely combine various (and, for Western audiences, incongruous) genres in the fashion of the blend of spices from which the term comes. Tragedy and comedy commingle in a world that can be a broad farce in one scene and a violent thriller the next, with those signature musical numbers thrown in. The motivation's the same as the one that drives most Hollywood tentpole filmmaking: to create a movie that caters to the widest possible audience. But where Hollywood tends to go for broad appeal by smoothing out any and all idiosyncrasies in their product, a good masala film revels in quirkiness — each movie literally tries to be everything for everyone.
Take, for example, "Mr. India" (1987) one of the earliest and most endearingly popular superhero films. Faster than a speeding bullet, the opening careens through enough genres for five movies: police and government officials discuss a crime wave, a cartoonishly evil supervillain announces plans to destroy India, a professor teaches his class about the theoretical possibility of turning a man invisible, a poor violinist cares for a house full of orphaned children and a frustrated newspaper editor yells at a reporter. The main character is actually Arun, a violinist (played by "Slumdog Millionaire"'s Anil Kapoor), who, as it turns out, is the son of the professor's colleague who actually invented a bracelet that could turn the person wearing it invisible, and who, as it turns out, lives on the very plot of land that the supervillain Mogambo ("Indiana Jones and the Temple of Doom"'s Amrish Puri) needs to take over the entire country, which, as it turns out, also happens to be the spot where the troubled reporter (Sridevi) winds up living as a boarder, despite the fact that she hates kids and Arun's house is full of them. Gah, even just typing it, I'm out of breath.
As a hero, Mr. India fits into the Spider-Man mold: a scientific experiment grants an average Joe with a mess of responsibility the power to do something about it. In this case, Arun acquires his father's long lost invisibility device, declares himself "Mr. India" and sets out to stop Mogambo from stealing his land and ruining his country. Like Spider-Man — and the rest of the heroes we'll discuss in this piece, not to mention most superheroes in general — he's driven by father issues; losing his father at a young age inspired Arun to become the caretaker for as many orphans as he could rescue from the streets of Bombay.
That army of wretchedly adorable tots highlight just how wildly the tone can shift in a masala film. In America, any movie with a dozen sprightly kids riding bicycles built for 12 and singing songs would get auto-categorized as a movie for children. But "Mr. India" has some content clearly aimed at adult audiences, including gruesome fates for several characters and a shockingly sensual musical number between an invisible Kapoor and rain-soaked Sridevi that culminates in a roll in the hay both literal and figurative. Credit director Shekhar Kapur, who went on to direct "Elizabeth" and "The Four Feathers," for blending all the disparate elements into a satisfying meal.
Interestingly, beyond his bedazzled invisibility bracelet, Arun has no special crime-fighting costume. While this might make him the first superhero in international history to defeat his archenemy while wearing a sport coat and rumpled fedora, the unusual sartorial choice carries its own thematic weight. As it develops, Mr. India's battle with Mogambo takes shape as a metaphorical class war, with the villain representing a greedy, exploitative upper class as the hero proudly announces himself to be "an ordinary Indian." Dressing their Mr. India in indistinct clothes only emphasizes his status as a regular guy fighting the good fight.
The following year, Bollywood offered a more traditionally attired (though similarly opinionated) superhero, the title character of "Shahenshah" (1988), played by Amitabh Bachchan. By day, he's Vijay, a bumbling police inspector. By night, he's Shahenshah (which means "king of kings" or "emperor"), a brutally serious vigilante who corrects the corrupt Indian judicial system's oversights. If you've ever called B.S. on Lois Lane not recognizing Superman once he dons a pair of glasses, you'll love Shahenshah, who goes the whole nine yards to fully disguise his secret identity, including a gray wig and spirit gum beard to go along with his leather and chainmail getup. It's a realistic and clever way to hide his face — one I'm surprised that American comics haven't adopted. Shahenshah's even got a signature weapon: the noose that his father used many years earlier to hang himself. Seriously: Shahenshah is hardcore. Do not mess.