Bill Kong, Tan Dun, Yo-Yo Ma, Clint Mansell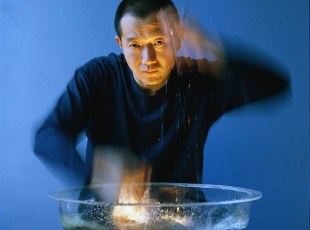 Posted by Brandon Kim on
I spoke with producer Bill Kong recently about his new film "Blood:The Last Vampire," the future of Hong Kong cinema, and of course, "Crouching Tiger, Hidden Dragon." You can read that here!
Thought I'd also give a quick shout out to some of the composers that I've enjoyed in his features, like Shigeru Umebayashi who composed the score for Kong's "House of Flying Daggers" and the rousing score for Wong Kar Wai's "2046."
(Chinese composer Tan Dun)

Clint Mansell who scores Kong's latest picture, "Blood," has two films out simultaneously, as he composed the music for "Moon" as well. Mansell is usually Darren Aronofsky's guy having created the music for every one of his features since 1998's "Pi," including the recent, "The Wrestler."
Oscar winning Tan Dun who composed the score for "Crouching Tiger, Hidden Dragon" and "Hero," might still be the favorite. He does good work, and you can bend all the bamboo you want, but allied with Yo-Yo Ma, he's fairly unbeatable.