Best films to jam to before heading to the Caribbean (Pt. 2)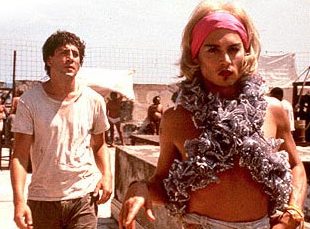 Posted by Brandon Kim on
Wes Craven's "The Serpent and the Rainbow" is easily one of the most freaked out films of the 80's. If that's too bold a statement, let's say it's definitely one of the most freaked out 80's films set in the Caribbean. I'm pretty sure I was permanently scarred by it's voodoo… anytime I see someone who looks like Bill Pullman I feel like I can't breathe. But as horrifying as it's depiction of Haiti was/is, laying on a resort's white sandy beach there today is actually more disturbing.
You can see some of the most impoverished people in the world along the border fences, walled off from the corporate owned beaches. If you try to feed them or help them in any way, you risk being responsible for one of the native "guards" (tasked with preventing contact) losing his meager, family-supporting job. Inflatable "icebergs" and other plastic eyesores adorn the deep harbors, playthings for bratty privledged children who cannot appreciate a tropical beach as is. The largest cruise ships in the world can be seen offshore, dwarfing the wooden shack covered jungle slopes of the island. The cruise lines have modified wheel chairs with cartoonish bubble wheels to roll loud fat people around on the beach who are too huge and overfed to walk, while the starving look on, I kid you not. Real life zombies are all over, and I'm not just talking about the hungry native kids.
"The Serpent and the Rainbow"

"Before Night Falls"

Revolution. An (attempted) escape by balloon ship! There are so many things going for this film, and even though it's actually a horrible tale, it's beauty outweighs that. Javier Bardem is incredible, and still underrated. Johnny Depp as Bon Bon and Lieutenant hard on is more than anyone can ask for. So nice to see the Johnny Depp we love and not the commodity that Bruckheimer bought and marketed in Dbags of the Caribbean (although I admit to watching one of the movies last time was there and it did take my mind off an evening of high seas + bad food nausea). And of course "Before Night Fall's" cool Cuban soundtrack seals the deal.
"Dr. No"

Maybe the best flick to get in the mood for living it up in the Caribbean is "Dr. No." Two Bond movies yeah, I roll. When Ursula Andress emerges from the sea singing "Under The Mango Tree" to herself wearing the best bathing suit ever (complete with knife), you know you haven't quite lived yet. Cause that shit's never happened to you. It's a reason to keep on going really. In Jamaica some of the old Bond shooting locations are like monuments. I'll be there with my Tux on. Underneath the mango tree, me honey and mee…