Armando Iannucci on Why Politics Are Still Funny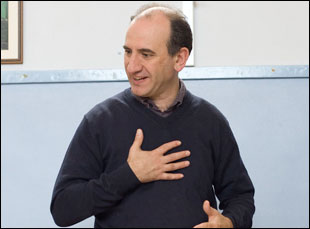 Posted by Alison Willmore on
Despite being a major recipient of that notorious Sundance buzz when premiering at the festival in January, "In the Loop" seemed out of place in Park City. Sundance is a festival that tends to take its comedy quirky, with a dollop of teary reconciliation, and "In the Loop" is stealthily, wonderfully heartless, a political satire in which individual self-interest constantly gums up the governing systems of two nations and eventually leads to war. Glasgow-born comedian Armando Iannucci, making his directorial debut with the film, knows his way around the savage send-up. In his storied career as a TV writer and producer, he helped to create Alan Partridge, the narcissistic talk-show host character that established Steve Coogan's career, not to mention a throng of other comedy series, many with a political edge. One of those, "The Thick of It," a mockumentary-style farce set in the British ministry, provided a launching pad "In the Loop." The series and the film share a visual style, some of the most creatively profane dialogue you're ever likely to hear, and the character who spouts more of it, apoplectic spin doctor Malcolm Tucker (Peter Capaldi), who stalks the halls of state of London and D.C. trying to curtail the chaos that ensues after Secretary of State for International Development Simon Foster (Tom Hollander) tells a radio interviewer that war in the Middle East is "unforeseeable."
Where did the idea of "In The Loop" as a feature come from?
I was very excited by the whole Iraq situation, but at the time, it was just so horrible that you couldn't be funny about it. However, the more I read afterward about what was going on, the more I thought, well, either you can scream about something like that or you can try and make comedy out of it without diminishing what actually happened.
That led me to look to Washington more and discover all sorts of funny things that you never see portrayed in any dramatic recreation of insider politics — like the fact that a lot of the government is run by 23-year-olds with degrees in terrorism studies and oil analysis, but who don't really know how to buy a house. [laugh] We met someone who said they knew a 23-year-old who was sent to Baghdad to help draw up the constitution! Also, I like the idea of revealing what's actually going on behind those closed doors, and the fact that it's terribly human and terribly fallible. It's just people making mistakes and trying to cover up for mistakes they've made, the office politics that go on.
Were you allowed, when researching for the film, any access into these realms?
I went to Washington and hooked up with a blogger out there who knew everyone, Spencer Ackerman, and he fixed up meetings with ex-State Department, CIA, Pentagon, Senate, U.N. — it was absolutely invaluable. I said I'd love to go into the State Department, see what it looks like. And everyone was saying [in hushed tone] "Well, security." And I said, well, I've got a BBC pass. It's just this plastic thing with my face on it and my name and BBC. There's no– no…
Microchip inside?
No microchip, no PIN, nothing. My son, who's 15, could've done it off his computer. My friend, this journalist, said to go up to the front desk at the State Department and say "I'm here for the 12:30. BBC." And that did it. They just said, "Through there," and we got into the State Department. We just wandered around taking photographs for our art department. I'm sure we must've been on 17 different cameras. [laughs] There may well have been snipers on their way…
Certainly the look of the film and of "The Thick of It" are inspired by documentary. Why did you make that choice?
Two reasons: One is I wanted to stress the naturalism of it, and the documentary feel lends itself to that. The other is just the method of shooting. I like to shoot fast and free and slightly improvised, having all the locations just generally lit, no marks; telling the cast they can wander about; having two cameras on the go all the time so if somebody comes up with a magnificent piece of improvised dialogue, I don't then have to say, "Can you say all that again, this time for a tight shot?" I wanted the behavior of the performers to be like the behavior of people in politics, which is that they are improvising. They're reacting very fast to things that are thrown at them out of the blue, so if there's a slightly panicked look in any of the characters' eyes, it's because it's there in the actors' eyes [laughs] as they've just been given the lines that morning and they're told, "We've only got ten minutes on this scene and then we've got to move on."
So what percentage of the film is improvised? Because the dialogue does feel very precise.
We go in with a script I'm absolutely happy with and shoot the script. I then say, "Okay, say it all again in your own way," and chances are they'll come up with the script again, but maybe in a slightly different order or with a completely new line. I'd say in the end at least 80% of it is the script, but there is that 15 to 20% that's new and therefore a lot of the cast are chosen for their ability to improvise.