50 Greatest Trailers: The Experts Speak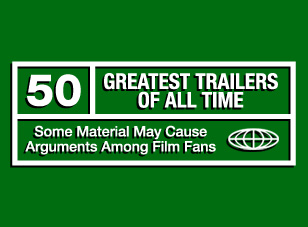 Posted by Stephen Saito on
When we humbly submitted our list of the 50 Greatest Movie Trailers the other week, we knew it would be controversial. There was internal debate about old versus new, blockbusters versus low-budget films, comedies versus dramas, teasers versus full-length trailers… and at the end of the day, we agree with Dan Asma, who defined a great trailer as one that leaves an audience saying to themselves, "whoa, I've got to see this movie."
Asma is a partner at Buddha Jones, a leading movie trailer production house in Los Angeles, and one of the many professionals we polled about what makes a trailer more than a mere advertisement and their own personal favorites. Besides having produced many of the modern trailers that appeared on our list, this group of trailer makers have won numerous Golden Trailer Awards, the trailer cutting world's equivalent of an Oscar (which is why we've linked to their memorable credits). Along with their picks, we also consulted with our own experts — our readers, who have suggested many overlooked gems in the past few days. So while we still may not be able to wholly understand that elusive magic that goes into making a great two-minute spot, we are better able to appreciate it. First, here are the experts we spoke to:
Mark Woollen
Mark Woollen and Associates
Credits include: The trailers for "Schindler's List," "The Royal Tenenbaums," "Garden State," "Milk"
Across the board, I'm just a huge Kubrick fan, so I think his work has been incredibly influential in trailers, beyond movies and everything. I was glad to see on your list that a number of his pieces were there. [At the behest of the many readers who asked for it, we'll present the trailer for "Clockwork Orange" here.]
[As for my own trailers], I started in the early '90s and they've gotten a little more complex, but what I'm trying to do is bring out those elements that just give you an impression of the movie, hopefully not going into too much story, not revealing too much, but just kind of picking out what's special about a movie and trying to convey that. I still go back to the trailer I did for "Schindler's List," which is still one of my favorites, in terms of the emotional quality. It was simple with just a piece of music and really conveyed the feeling I was talking about in terms of giving you a sense of what it's going to be like to watch the movie.
John Long, Lee Harry, and Dan Asma
Partners at Buddha Jones
Credits include: The trailers for "No Country for Old Men," "The Hangover," "Tropic Thunder," "The Strangers," "Jackass II," "Inglourious Basterds," "Superman Returns"
Dan Asma: The most effective trailers or the most successful trailers are ones that had their own kind of artistry to them, meaning that the first job in a good trailer is obviously to sell a movie, but trailers to me that are really successful have their own kind of mission itself, which is to yes, build this heat, but also to have a certain process or way of telling a story that in and of itself is very evocative. And I think "Little Children" is a perfect example of that, where there's a real artistry in the trailer as well as creating an anticipation like wow, not only is that cool in and of itself, but I'd be curious to see what the movie's like based on how cool this trailer is.
John Long: There's something about the shorthand of trailers that allows you to create a message in a unique way very quickly. I'm going back now, all the way back to the teaser for "Jaws" — it was basically this POV of the shark in the water, but it created anticipation, it created dread, it created this unbelievable sense of unease in a very short order because it was so masterfully put together.