The Sandbox: When Games Become Movie Sequels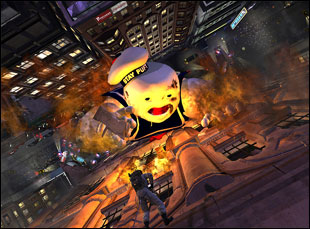 Posted by Nick Schager on
Most games based on blockbuster movies just don't deliver. Despite that, a new strain of cinema-related titles has been gaining traction over the last few years, and reached a head three days ago, when "Ghostbusters: The Video Game" hit store shelves: games that function as movie sequels. And it makes sense, since there are plenty of franchises still immensely popular with fans but, for whatever reason (lack of studio support; disinterest from the creative team), have never managed another big-screen outing.
That's certainly the case with "Ghostbusters," whose 1989 sequel made considerable money but disappointed many (including star Bill Murray), thereby closing the door on star/co-creator Dan Aykroyd's dreams of future installments. Twenty years later, convinced a new film was highly unlikely, Aykroyd instead moved the Ghostbusters to the digitized realm. In the process, he convinced almost every principal player (save for Sigourney Weaver) to lend his or her voice and likeness to a fresh adventure. As those currently proton-packing their way through the game know, it operates as a genuine follow-up to "Ghostbusters 2," taking place two years later and thrusting gamers into the role of a rookie 'buster who joins the team to battle a supernatural menace threatening Manhattan.
For both movie and game buffs, getting to interactively experience a new story involving a beloved property is a win-win scenario, at least in theory. It's also one that, thanks to improved technology and the legions of console owners out there, is right on the cusp of taking off. Of course, it's not a new idea. Harrison Ford's swashbuckling Indiana Jones, for example, is the king of non-movie sequels, having starred in games based on his first three films, as well as countless original escapades that have him questing around the globe, searching for lost artifacts and battling evildoers. From 1984's Commodore 64 title "Indiana Jones in the Lost Kingdom" — a game that actually taunted would-be players about its difficulty on its box ("Nobody told INDIANA JONES the rules. And no one will tell you") — to the Wii's just-released "Indiana Jones and the Staff of Kings," the good Dr. Jones has headlined more game sequels than he has cinematic ones. While none of these stand-alone exploits have ever been overtly mentioned by their filmic counterparts, quite a few have sought to integrate themselves into the series' timeline, most notably 2003's "Indiana Jones and the Emperor's Tomb," whose conclusion provides a nice segue into "The Temple of Doom"'s Shanghai opening.
Assimilating game narratives into film franchise mythologies is the surefire way to create serious interest in these titles. It was without a doubt one of the main selling points of last year's "Star Wars: The Force Unleashed," in which you assumes the role of a secret Darth Vader apprentice, replete with all kinds of Force-related powers, during the period between "Episode III" and "IV." LucasArts specifically certified "The Force Unleashed" as part of official "Star Wars" lore. Such a gesture may seem trivial to the casual observer, but to the die-hards that these games target, the endorsement that a story is a legit component of an overarching saga and not just an addendum is key to stoking appeal.
Despite only average-to-negative reviews, "Force Unleashed" became the bestselling "Star Wars" and LucasArts game of all time after only one week of sales, and the accompanying novelization — books being a more traditional venue for such spin-offs — topped the New York Times bestseller list upon its release. Brand, of course, had much to do with this success. But so too did the game's status as part of the series' official canon, a seal of approval that countless other, more highly regarded "Star Wars"-related titles failed to garner.