Sunset Rubdown and Guy Fantastico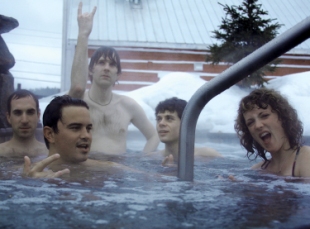 Posted by Brandon Kim on
Sunset Rubdown began as Spencer Krug's solo project but is a full fledged band now with a third record out June 23rd entitled, Dragonslayer. If that name escapes you, Krug is in Swan Lake and more notoriously, Wolf Parade.
(Left: Sunset Rubdown living the good life in Canada)
It could use a touch more Princess Elspeth and maybe a virgin offering in white, but I find it to be rewarding upon deeper listening. I know many, especially loving minions of Wolf Parade will find Dragonslayer immediately enchanting.
I'm not sure when Guy Fantastico stole my post 2am street name, but he can have it without a fight. I've never recorded a record in a rain forest in Costa Rica. He has. The record called, Nesting looks to be self released, due out August 4th. In the meantime I've got a tune here and he's got a Harry Belafonte cover you should dig too (linked above).
He's got something in the works with Helado Negro, which is essentially producer Roberto Carlos Lange (Prefuse 73) and noted this on his page on the largest web site in the known universe: (Secret: I may be singing in his band on an upcoming tour).

"Idiot Heart," by Sunset Rubdown

"Nom De Guerre," by Guy Fantastico
If you're in NY both of them play in Brooklyn tomorrow, June 12th!
Sunset Rubdown w/ Elfin Saddle and Witchies @ Studio B
Guy Fantastico sings w/Helado Negro @ The Sycamore