Subject Versus Approach at Cinevegas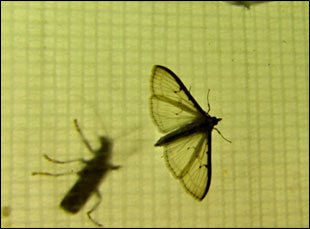 Posted by Matt Singer on
The "Pioneer Documentaries" program of the CineVegas Film Festival claims to highlight films that capture "subjects who defy odds and expectations." And that's an appropriate enough description for the seven docs featured this year, whose focuses range from poker to the anti-aging industry, but it's also one that could be applied to over half the nonfiction films on the festival circuit today. A good subject can make a documentary, but it's how a film presents and treats that subject that sets it apart, as two films in the line-up with thematically similar subject matter and extremely different approaches demonstrate so well.
"Beetle Queen Conquers Tokyo" examines Japan's long-standing obsession with bugs from a perspective that's equal parts entomological, ethnographical and experimental. Whatever else it might be, it's sure as hell not commercial; the film is more survey than story, with no character arcs or three-act structure to speak of. Even the voiceover about the origins of the phenomenon is spoken in Japanese, subtitled in English. Instead of any standard structure, director Jessica Oreck, an animal keeper and docent at the American Museum of Natural History and lifelong insect lover herself, combines glimpses of the Japanese beetle collecting scene — the men who hunt them, the children who buy them, the almost-literal flea market where the two sides meet — with poetic images of Japanese landscapes and rituals.
Oreck's technique, which was rewarded at CineVegas with a Special Documentary Jury Prize for Artistic Vision, is unorthodox but highly cinematic. While a few talking heads and assorted readings speak to the historical context of this unusual national fascination with insects, "Beetle Queen" attempts, with a good amount of success, to explain the allure of bugs by showing instead of telling. People don't explain what makes these creatures wonderful, instead, Oreck lets footage of excited bug fanboys (and some genuinely beautiful visuals of their beloved pets) speak for itself. Even now, after viewing the film, I cannot adequately explain the ancestral underpinnings of this bizarre attraction. But the imagery is so evocative, it requires no context. The how feels much less important than the why.
One of the more curious aspects of this subculture is its specificity: a man who sells bugs for a living (a profession so lucrative in Japan, by the way, that he's able to buy a Ferrari with the proceeds) and who spends hours on end delicately capturing beetles will thoughtlessly squish a hornet under his heel when it becomes a nuisance. Later, we begin to note a similar and unsettling facet of these hobbyists' pursuits: the fact that these nature lovers are more than happy to displace or even destroy the natural world so that they can possess it.
Oreck observes this behavior but doesn't comment on it. Her quietly curious tone is in stark contrast to a film like "The Cove," another documentary set amongst the wildlife of Japan that is currently working the festival circuit and that reaches theaters at the end of July. That film talks about all sorts of political issues — it, too, is set in a world of environmental commodification — but couches its entire narrative in what's ostensibly a heist film: in order to uncover the truth about a mysterious dolphin slaughter, the documentarians recruit a veritable Pacific Ocean's 11 of colorful and eccentric wildlife, diving and surveillance experts to help obtain the photographic proof of this horrific act. Despite its grisly subject matter, "The Cove" has proven exceedingly popular — it's already won prizes at this year's Sundance, Newport, and Hot Docs Film Festivals — perhaps because, despite it's left wing politics, it's an exceptionally conventional entry in the post-Michael Moore era of polemical documentaries.