Rachel Dratch's Big Fat Greek Adventure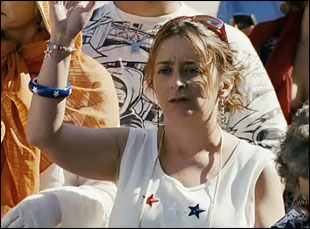 Posted by Aaron Hillis on
After six seasons as a "Saturday Night Live" player, offbeat funny lady Rachel Dratch leapt away from a show she calls a safety net to pursue other TV ("30 Rock") and film roles ("I Now Pronounce You Chuck and Larry," "Spring Breakdown"). Her latest opportunity to make us giggle is the new rom-com "My Life in Ruins," which stars Nia Vardalos as a frazzled Greek tour guide (get the title now?) trying to get her "kefi" (groove, mojo, etc.) back. Dratch plays a shrill, uncultured American tourist with whom Vardalos is stuck, with the equally eccentric-humored Harland Williams as Dratch's oblivious beau. Definitely not a Debbie Downer in real life, Dratch was in great spirits as we sat down to discuss the film's hard-partying Spanish crew, her theory on funny women, and who was the best lay on "SNL."
If there's one thing I gleaned from "My Life in Ruins," it's that Americans are the worst tourists ever.
I think they might be, at least for comedy purposes. We had to make them that way. There's definitely a stereotype that we were playing. You don't have to be an actor or study society. Everybody's seen this person in their white sneakers and knee socks and loud voice.
When traveling abroad, do you ever feel self-consciously American?
Not really, although I definitely go for comfort shoes over fashion, like French lady shoes. Maybe that's where I stand out as an American — I always wear sneakers over there. I hadn't been to Greece, but we also shot in Spain. There were Spanish women working on this movie with us, and they were always in fancy nice shoes. I was like, "Screw that!"
Do you have any good stories about working with the locals?
The Spanish crew would stay up and party all night long, and then they'd show up for work the next morning. It was six o'clock in the morning! If it was the U.S., people would be like, "Ohhh, I'm so hungover." Nobody ever complained or even looked tired. They were party machines. But I found out afterward that everyone was on cocaine. I think coke is really big over there, I don't know. None of us [were], of course. [laughs]
What do people not know about Harland Williams?
Oh my god. He's an old softie! [laughs] He's a really weird dude with a gooey center, the king of the non-sequitur. But he's also the caring, teddy bear kind of guy, even though he's got an odd brain.
Have you ever been confronted by someone you've done a comic impression of on "SNL"?
I did meet Barbara Walters, and I had an impression of her, but that wasn't so bad. I think Gilda Radner's impression of [Walters] bummed her out a little bit because it was all about the way she spoke. Mine was pretty tame, so I might've gotten off easy. I didn't do too many impressions on "SNL," really.
I don't know, according to Wikipedia…
See, I didn't write that. They probably threw in people that I don't [really] do an impression of, like, for one scene or something. Who writes those Wikipedia pages?
Were there any moments on "SNL" when a sketch was written, and an impression wasn't working out at the last possible moment?
I think that happens more for the guys doing the political people. We went through eight George Bushes. Once Will Ferrell left, it was like, "Screen test! Who will play…" That never happened to me. By the time it's at the read-through table, if the scene get picked, your impression's probably already good. Like I said, I didn't attempt too many people.
You have degrees from Dartmouth in drama and psychology. How often do you utilize the latter?
It comes up when I'm just talking to my friends and having them sort out their problems. It gives me my little therapist jones. It's the road not taken that I sometimes still think about. I love analyzing people's dreams, stuff like that. I get my jollies by being an armchair therapist. In terms of approaching work, I guess it's the same — just observing different types of people. What makes them tick? That sounds so pretentious. [laughs]