On the Road With Mariah, Maya Rudolph and Zach Galifianakis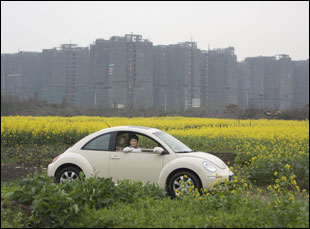 Posted by Neil Pedley on
If you're a fan of road movies, then you better call in sick with a case of swine flu, as this weeks sees a lot of them arriving in theaters. For everyone else, there are docs on art and music, some European sunshine and a little smattering of domestic darkness.
Subscribe to the In Theaters podcast: [XML] [iTunes]
"24 City"
Festival favorite Jia Zhang-ke ("Still Life") delivers a portrait of a culture in flux and a meditation on the ethereal nature of history with yet another of his patented hybrids of documentary aesthetic and name actors. Once a virtually self-contained community with its own accommodations and amenities, the massive 50-year-old munitions factory in Chengdu is undergoing demolition to make way for high-rise apartments. Through the testimony of former inhabitants both real and fictional, Jia offers a take on the growing pains of a society transitioning to a market system and the haves and have-nots trying to make their way within it. In Chinese with subtitles.
Opens in New York.
"The Art of Being Straight"
On the back of another blow for those fighting to overturn California's Proposition 8, this feature debut for actor/writer/director Jesse Rosen is an observational account of a young guy struggling with issues of sexuality against the backdrop of a gay community still struggling for acceptance. Taking an extended break from his girlfriend, Jon (Rosen) travels across the country to Los Angeles to move in with his college buddy Andy (Jared Grey). He's surprised to discover that his ex (Rachel Castillo) is now in a lesbian relationship, prompting much life reevaluation as the trio work bottom-rung jobs, shoot the shit and try to find their way.
Opens in New York and Los Angeles.
"Autumn Ball"
Following his not quite feature-length 2006 debut "Empty," Estonian director Veiko Õunpuu confirms his status as a miserablist's best friend, delivering a relentlessly bleak quartet of tales anchored around a looming, Soviet-era tower block in the wake of the Communist collapse. Õunpuu's twisting narrative hacks off any hint of happiness at the knees, as the lives of a self-medicating writer, an apathetic lothario, a self-deluded architect and a domestically dissatisfied single mother briefly intermingle in the face of an uncertain future. In Estonian with subtitles.
Opens in New York.
"Away We Go"
Lacking the star power of last year's re-teaming of Kate and Leo for the Oscar picture that never was ("Revolutionary Road"), this new offering from director Sam Mendes arrives largely unheralded, despite having quite a pedigree of its own. Scripted by real-life husband/wife team Dave Eggers and Vendela Vida, this colorful road comedy stars John Krasinski of "The Office" and "SNL" alum Maya Rudolph as Burt and Verona, an expectant couple who embark on a cross-country tour of their old stomping grounds as they search for a suitable place to put down roots. Jeff Daniels and Catherine O'Hara provide support (or not) as Burt's Belgium-bound parents.
Opens in limited release.
"The Country Teacher"
His first outing since 2005's well-received "Something Like Happiness," Czech helmer Bohdan Sláma's latest drama is the bittersweet odyssey of a good-natured closet case struggling to reconcile his role as a kindergarten natural science teacher with his personal status as a self-hating homosexual. Fleeing yet another loveless relationship, Petr (Pavel Liska) abandons the city for a rural posting where a local farm becomes the site of an uncomfortable three-way love triangle between himself, the clearly interested Marie (Zuzana Bydzovská) and her hunky but oblivious 14-year-old son (Ladislav Sedivý). In Czech with subtitles.
Opens in Los Angeles.
"Downloading Nancy"
If the anti-"Antichrist" brouhaha at Cannes proved anything, it's that when it comes to provocative psychosexual drama and arty sadomasochism, the Europeans are simply the last word. Here making his big screen debut, Swedish music vid helmer Johan Renck does his part with the ice-cold tale of a disaffected Maryland housewife (Maria Bello) who decides to disappear, for reasons she can't articulate, so that she can be mistreated, degraded and ultimately killed by an online suitor (Jason Patric) of her choosing. Rufus Sewell co-stars as the frantic husband trying to track her down.
Opens in limited release.
"The Hangover"
With everything from demonic curses to the post-apocalyptic battle for our very survival watering itself down in pursuit of the teenage dollar, it's nice to see a film rated R for "Right around the corner and down the hall for 'Dance Flick,' you text-happy little buggers." Of course, it won't be surprising if some teens sneak into "Old School" director Todd Phillips' return to middle-aged maledom for this comedy about a quartet of eager Peter Pans who head out to Las Vegas for a bachelor party. The morning after finds them hazily head-scratching over shotgun weddings, escaped circus animals and an air-drumming Mike Tyson. Bradley Cooper, Ed Helms, Zach Galifianakis and Justin Bartha star.
Opens wide.