Music Supervisor: Tracy McKnight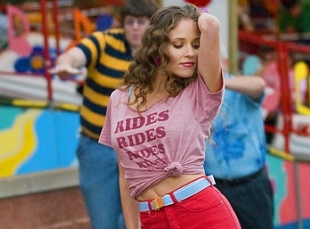 Posted by Brandon Kim on
Tracy McKnight was not aware of the job of music supervisor when she set out to find her way in the world. She thought she'd eventually work in fashion or cosmetics, perhaps something she dreamed of at 30,000 feet while working as flight attendant. Instead, she landed a job at a NY recording studio as the night manager during college and it set her on a career path in the music industry. The thrill is still evident in her voice when she talks about it.
(Left: Lisa P. first struts on screen to the Rolling Stones in "Adventureland," Miramax films)
Then in '91 she saw "The Commitments," and realized there was a person responsible for selecting and licensing music for films; the music supervisor. It all clicked. So with determination, a move to LA, and some friendly mentors along the way, she became one. Now 11 years in she has a roster of over 80 films and is responsible for the impeccable "Adventureland" soundtrack.
Some directors call the shots with a soundtrack and "Adventureland" writer/director Greg Mottola is certainly one of them. But regardless of who drives the creative choices, putting it all together is a colossal job. What astounded me most upon seeing the film was, given what must have been a very modest budget, how Mottola and McKnight pulled off all those musical gems. I found out they created a special category, internally speaking, for the songs that were integral to Mottola's script called "Tracy walks on glass." Songs like "Tops" by the Stones, the VU songs "Satellite of Love" and "Pale Blue Eyes" were on the list. Yeah, Falco's "Rock Me Amadeus" too. So by any means necessary, McKnight got them. They weren't all easy sells and some were at first declined. I won't attempt to detail the means with which she ultimately obtained them, but I'm so happy she did. No animals were hurt in the process.
Clearing songs, convincing bands, making big things happen on small budgets along with all the different pieces brought to the table by composers, directors, producers – McKnight adorably describes it all "like a puzzle," that she has to put together.
Some of her favorite work, or at least what she could rattle off on the spot, includes, The Ramones documentary "End of the Century" and the Wilco doc "I Am Trying to Break Your Heart." An early turning point for her was the 1998 film "High Art," the first time she had a band ("Shudder To Think") compose the score and write original songs for a film. It wouldn't be the last time. 2007's "Dedication" featured a soundtrack by indefinable indie favorites Deerhoof, merged with a score by composer Ed Shearmur ("Charlie's Angel's"), a strange pairing to say the least. She said it exemplified that "road of discovery, creating something that is truly unique" experience, something that clearly spins her records.
McKnight now works for Lionsgate, as their VP of film music. She isn't just very passionate about being at the crossroads of music and film; it's like a revelation for her. She's an adviser to the Sundance Composers Lab and the producers conference helping filmmakers "think about and budget for music" in films. She also programs a night at Sundance, called Music Meets Film, going on 8 years now. It highlights and celebrates the music in the films that are playing that year with live bands. "Mos Def covering Fats Waller songs with Michel Gondry" on drums, included. So she knows how to throw a party too.