MTV Movie Awards: highlights & crack ups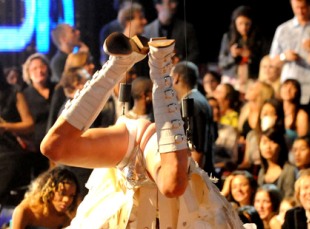 Posted by Brandon Kim on
It's been clear for a long time that teenage girls cast the deciding votes on most of MTV's programming, and certainly the winners at their awards. This could not be more evident this year with "High School Musical 3: Senior Year" (it hurts just typing that) cleaning up in the wake of "Twilight" sweeping nearly everything else.
(Left: Bruno blows out his skirt, and everyone present. Photo by Getty Images)
Still, my love for MTV, forged long ago by Michael Jackson and Dire Straits videos continues to burn, even if it's kind of a heartburn now. Last night's Movie awards had a couple treats that bridged the gulf between the mall crowd and those of us too neurotic to deal with crowds.
First, Sasha Baron Cohen is a mad genius. He reminds me too much of Peter Sellers, whose loss I mourn every day. Did you know his brother Erran Baron Cohen is a musician who composes for Sasha's films? Did you know "8 Mile" star Eminem was so humorless?
Jim Carrey can rub me wrong, but he was so right accepting his award for best comedic performance. Get out of my head Carrey!
Lastly, a musical performance by Andy Samberg, "Neil Diamond," and J.J. Abrams was more splosive than any of the actual bands. "Flames are hot, but their heart is chill."