A Terse Interview With Larry David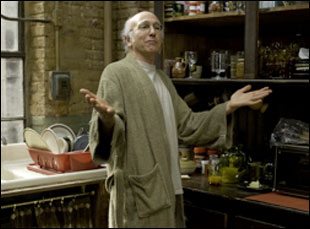 Posted by Aaron Hillis on
Jewish-American funnymen Larry David and Woody Allen, the "last of the schlemiels" as a recent New York magazine cover story dubbed them, have technically collaborated three times now. David — the co-creator of "Seinfeld" and HBO's "Curb Your Enthusiasm" (its seventh season will premiere this fall) — had bit roles in Allen's "Radio Days" (as a Communist neighbor) and his segment of the "New York Stories" omnibus (as a theater manager). But in the new comedy "Whatever Works," the Woodster's long-awaited return to NYC filmmaking, David slouches front and center as Boris Yellnikoff, a misanthropic former physicist who takes an impressionable Southern runaway (Evan Rachel Wood) under his wing. My ears hadn't yet popped as I landed in Oklahoma City for the deadCENTER Film Festival a mere 15 minutes before talking to David by phone. Much like his other interviews, the guy certainly doesn't give journalists much to work with, which I soon called him on.
Mr. David?
[crunching] I'm eating a pretzel.
I'm glad I caught you. I just got off a plane in Oklahoma City.
Is that where you are? Is the pretzel bothering you?
Not at all. So, I read that Woody Allen wrote "Whatever Works" back in the '70s, and I'm curious if you had any involvement in reshaping the character or story for the present day.
I didn't have anything to do with that. I know there was a reference or two about my being bald, so I'm sure once I got the part, he did a little bit of work on it. I wasn't even aware that it was written for Zero Mostel in the '70s until a few weeks ago. I just worked off the script.
Why do you think people assume Boris is meant as the film's stand-in for Woody?
They do that with all his movies, though. They think all his movies are autobiographical and I'm sure it bothers him, because it's not the case. Obviously, part of him has to be in some of the characters, but that's not to say that the character is him.
Throughout the film, Boris claims to be a genius. Have you ever met a bona fide genius?
Probably. Woody Allen is somebody I could put in that character, but other than that, no.
You've never met another genius?
Who? My cousin Arthur? I don't know.
Boris has to sing "Happy Birthday" twice while washing his hands. Are you OCD about anything?
I am, yes. I don't like to say anything good. I feel like I'll jinx myself. Like, if I'm playing golf or something, I won't even say to somebody, "Boy, I'm really playing great today." Because then, I'll go right into the toilet. So I always refrain from any kind of immodest remark.
You're just always waiting for the other shoe to drop?
Yes, exactly. And it does, without fail.
Boris is similarly exasperated like your character on "Curb Your Enthusiasm." With what personality traits does the fake Larry end and the real one begin?
From the character I play on the show? The only difference is he's much more honest than I am. He's brutally honest, and I am not. People seem to think that he's cranky, I get that. I don't see him as a curmudgeon. I just think he's honest, and he gets in confrontations with people because he's honest. I am not honest. Because of this very delicate, socially balanced world we live in, you can't talk like that.
Boris is a vehement atheist. Do you have any spiritual beliefs?
I do, yes. I'm not like that. I believe in something.
Care to elaborate?
No, it's corny enough as it is. [laughs]
Especially after shooting in New York, what do you miss most about living there?
Knicks. Yankees.
What do you miss least?
The cold.