Exclusive Music Video Premiere: LANDy's "BFF!"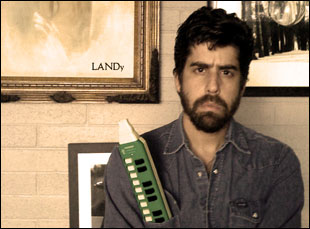 Posted by Brandon Kim on
Adam Goldberg's been a hero to the thinking man and woman since his role as the hilarious back seat misanthrope who ultimately just wanted to dance in "Dazed and Confused." He acts, he writes, he directs, and with this long-in-coming foray into music as LANDy, he lays himself bare. The 18-track album "Eros and Omissions," recorded with help from Steven Drozd of The Flaming Lips, Earlimart's Aaron Espinoza and others, hits June 23rd. I got a chance to talk with Goldberg, after a bit of call juggling, about expressing himself through music, what's on his mind, and the new video for the track "BFF!", which you can watch below. A few confessions follow, but then, I think that's just his nature.
Exclusive music video premiere — LANDy's "BFF!", from the new album "Eros and Omissions":



How are you doing?
Ah, doing all right, been a little frantic. But ah, oy vey. Ignore… [he ignores another call] But, I'm good. I'm just frantic.
I might be a kindred spirit.
Yeah, what are you up to?
I'm calling this guy, Adam Goldberg.
Yeah, that would be enough to make me frantic.
Yeah, but let's talk about LANDy. You started recording this yourself; this is a labor of love over years?
Yeah, with the caveat that it wasn't begun with the intention of making a record, per se. The earliest recording dates back to the end of 2002. There were various points over the last few years where I said "Okay, this will be part of a record," or "I will use these songs as a demo and try to get some sort of record deal." The best example would have been me taking a trip to Oklahoma to record these songs with Steven [Drozd] which I felt were going to be the beginning of a proper record that I was going to make [in 2005]. But that never came to fruition. So I just continued to record stuff as always, really just for the pleasure of doing it.
I know you were collaborating with other people and even played in a band or two before that, but it was 2005 when you first knew you were working on something called LANDy?
It sort of begs the question, what is a record? Is a record something that you make with a band, the same three or four or five people, or is it with a variety of people over years? Is it under one roof? In the past, when I decided to write a script, I could sit down and do it and see it though, and make fairly difficult to make films in a relatively short time span, regardless of what their ultimate reception. I could get it out there, push it out into the world in some way. But here was something I was very passionate about that had grown much more habitual. I'd become overwhelmed by what it was I was supposed to do with [it all]. By the end of 2007 I had something like 25 songs in various forms and decided to take all this stuff to Aaron Espinoza to help me mix it, rerecord, and record few new songs. I guess you could say that's the beginning of it becoming a record rather than merely a recording of experiences I'd had over the past few years.
I've had the pleasure of meeting Aaron Espinoza a few times, actually… he's integral to a couple of the songs aside from the general production, isn't he?
Sure — there were two songs I recorded from the ground up at his studio. One is the opening track, which was recorded almost on the fly, and then "BFF!" — we did that one from the ground up. He plays that guitar lick at the end of "BFF!" and shakers and tambourines and things all over the place. He only had so much latitude in mixing because a lot of stuff I had printed — when I first started mixing, I sort of realized [laughs] you print an effect and it was there forever.
Did you have a hand in the "BFF!" video?
It was a collaborative process. Tim Cox, who I had done a movie with ("Miss Nobody"), pitched this idea that at the time was premature, nearly a year ago. I said "Let me think about it," and he and I would send treatments back and forth, I was in New York at the time. The results are very much a product of these exchanges. He was all about what camera we were gonna use, and I had very specific visual frames of reference, like Julius Shulman photographs, and you know, this all sounds very pretentious… Some things are my ideas, some things are his ideas.
Is there a bit of fetishism going on there, or is that just me?
[laughs] During the shoot, I was like, "My God, this is a fetishist's dream!" and actually made a concerted effort while editing to get more to the heart of what it's about, which is a fairly literal though hyperbolized interpretation of the song. I had this concept rooted in sycophantism, doppelgangers, persona and identity confusion… But at the same time I thought it's still a very colorful way of exhibiting this so that it doesn't get too self important or maudlin.