Jeff Buckley: 15 years of Grace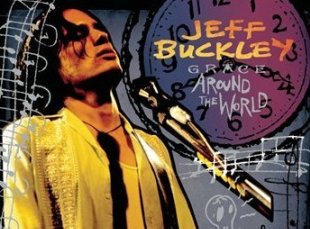 Posted by Brandon Kim on
Fifteen years it's been? Thanks for rubbing that in Sony BMG. Though I suppose there's few better ways to celebrate aging and failing at love than to dust off the Jeff Buckley records. Or check out the new 15th anniversary re-release, Grace Around The World.
Whether it goes beyond a label cashing in on fans or not is for you to decide, but even the budget version includes a DVD of previously unreleased TV performances from the U.S., the UK, Germany, Japan and France. Handily, it also has a CD with the audio versions of all those performances so you don't have to perform any technical wizardry if you're dying to get one of 'em on your mp3 ball and chain of choice. There's tons of other goodies if you're into it.
I feel it necessary to revisit the "Hallelujah" debacle, since this will no doubt create a rash of Buckley songs appearing in film and TV. If a Buckley song lands in one more TV teen drama I probably won't notice, but for the love of the children stop the dreary unoriginality. Jeff Buckley would vom. Leonard Cohen wants nothing to do with it. He's wearing his toque and moving on.
One note of praise goes to "Lilac Wine," off Jeff Buckley's Grace in the French film "Ne le dis à personne" ("Tell No One") which saw a limited release in the US last summer. Even though it had been used before ("The Secret Lives of Dentists") and the deluge of Buckley songs had become overwhelming, it was used tastefully to magnify the man's nostalgic sorrow. Devastating really.