IFC America's Hottest Rocker Mom Contest-The Results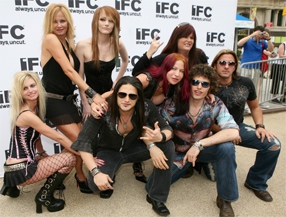 Posted by Will Weinand on
Though the forecast called for rain on June 3rd in the skies over Manhattan, the Gods of Metal and Rock persuaded Thor to stay his hammer so the IFC could host the America's Hottest Rocker Mom contest in Madison Square Park, NYC.
After receiving hundreds of worthy submissions, the five finalists chosen were Kat Everson from Beverly Hills, CA; Natalie Hawkins of Conroe, TX; Shawna Owens from Cadalle, MI; Debra Diamant of Los Angeles, CA and Valerie Nerres from Las Vegas, NV.
The event was a spectacle to behold. The distinguished panel of judges included stars Sebastian Bach, Constantine Maroulis, Bethenny Frankel from The Real Housewives of NYC and the stars of Z Rock; Paulie Z, David Z and Joey of ZO2.
Under the orchestrations of host Eddie Trunk, the finalists competed in four categories to determine who would claim the title. The Heavy Metal Moms were first judged on their Rocking Attire, then their knowledge of Rock Trivia, dance moves were the core of round three and the final challenge was a killer round of Karaoke.
In the end it was City of Angel's own Debra Diamant who took home the cash and the crown with a total score of 166 and the hearts (among other things) of all the judges. IFC's congratulations go out to Debra and all the contestants for creating a stiff competition.
Check out the photo gallery for all the action and make sure to tune in to IFC on Sunday nights at 11 PM to check out the adventures of the ZO2 boys on the all-new Season 2 of Z Rock!
[Photo Courtesy of Diane Bondareff/IFC]