Cavemen, Mobsters and Nazi Zombies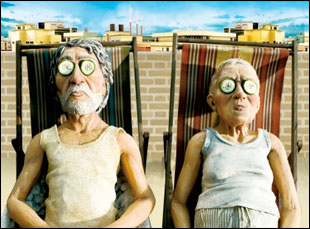 Posted by Neil Pedley on
This week in theaters sees more history coming to life while the oceans around us die. Woody Allen fans can start counting backwards from 364 again, while Sandra Bullock makes Ryan Reynolds suffer, which, after "X-Men Origins: Wolverine," has got to be a cause worth supporting.
Subscribe to the In Theaters podcast: [XML] [iTunes]
"$9.99"
Thanks to the mainstream explosion of snarky adult-oriented animation, grown-ups no longer need to dream up creative excuses to spend all day in front of cartoons, which is nice. This latest dose of claymation cleverness comes courtesy of Israeli director Tatia Rosenthal, working from "Jellyfish" writer/director Etgar Keret's book of short stories. Anthony LaPaglia voices Jim, a single dad in urban Australia who, along with his family and neighbors, embarks on a series of surreal adventures after his son Dave (Samuel Johnson) blows the titular sum on a book promising to bestow upon him the answer to all of life's mysteries.
Opens in limited release.
"Daytime Drinking"
While the premise of twentysomethings throwing themselves in front of life's sucker punches as an excuse to get royally trashed is a subgenre in its own right in the West, first-time filmmaker Noh Young-Seok anchors his parable around the cultural consumption of the native beverage soju, a move that marks it as unmistakably Korean. After a night of commiserate drinking over a break-up leaves him marooned in a neighboring province, the bleary-eyed Hyuk-Jin is subjected to a string of darkly comic episodes with the overly helpful townsfolk that undermine his efforts to leave town. In Korean with subtitles.
Opens in Los Angeles.
"Dead Snow"
Good horror is hard. Good comedy is even harder. That said, zombies are dead funny (get it?) and Nazis are super scary, so having married the two in deliciously tongue-in-cheek fashion, Norwegian co-writer/director Tommy Wirkola seems onto something. Marooning a group of oh-so killable young hedonists in a cabin in the woods, complete with a grizzly local legend about hidden treasure and missing soldiers, Wirkola wastes no time unleashing the gags and the gore so that the great debate as to whether this is better or worse than "Shock Waves" and "They Saved Hitler's Brain" can eagerly begin.
Opens in limited release.
"The End of The Line"
It's surprising this documrntary wasn't released last week to coincide with World Ocean Day on June 8th — filmmaker Rupert Murray's sophomore feature, based on the book by Charles Clover, serves to add one more number to the veritable roulette wheel of ways we're likely to kill our planet. With everything from the increasingly powerful lobby of the fishing industry, corporate self-interest and the ill-informed shopper in the supermarket targeted for blame, Murray paints a chilling picture of an ecosystem in crisis that, at current levels of commercial pillage, will cease to exist inside of 50 years.
Opens in New York and Los Angeles.
"Irene In Time"
It's a testament to the potent nature of authenticity as a creative drug that filmmaker Henry Jaglom prefers to draw and cast from his own life despite having directed actors the likes of Orson Welles and Dennis Hopper. Having undergone a muse transition in recent years from serial collaborator Victoria Foyt to protégé actress Tanna Frederick, Jaglom follows up the Frederick-starring satire "Hollywood Dreams" with an emotional family drama built on the old adage that the first man to win and break a girl's heart is her father.
Opens in limited release.
"Máncora"
Having finally managed to achieve a level of commercial clout to marry with its longstanding artistic sensibility, Latin American cinema is as prominent as its ever been, but still lopsided on the world stage towards the big three countries of Mexico, Brazil and Argentina. Here flying the flag for his oft-overlooked home nation is Peruvian director Ricardo de Montreuil with his sophomore feature, an introspective drama set against the backdrop of an arduous journey to a paradise beach. The film stars Jason Day as Santiago, a troubled youth who, in the wake of his father's suicide, finds himself drawn to his stepsister Ximena (Elsa Pataky), much to the chagrin of her husband Iñigo (Enrique Murciano). In Spanish with subtitles.
Opens in Los Angeles.