A Brief History of Bollywood Sex and Romance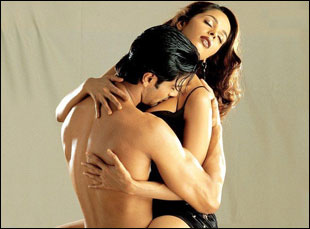 Posted by Aaron Hillis on
You can't beat the Bollywood classics for their overt romantic tension, where intimate touching (yes, even kissing!) was replaced with the poetic, polite innuendo of hot rain and wet clothing. It's funny that they'd be so reserved about what happens between consenting adults, considering India is the second most populous country in the world. (We know they're doing it!) In some ways, however, B'wood has become more relaxed in its attitudes, as younger, Western-influenced generations come of age and make waves in an industry built on tradition. Previously unseen "taboos" like pre-marital sex, onscreen nudity and even wife-swapping have curiously been passed by the Central Board of Film Certification, the strict watchdog equivalent of the MPAA that has served as a censor since the early '50s. Gathered below is a look at the landmark moments and trends that have raised eyebrows through Bollywood history.
Behind the Steamy Scenes
Screen icons Dilip Kumar and the beautiful Madhubala fell in love both on screen and off in 1951's "Tarana," while she was still a teenager. Fearful that Kumar would steal away his breadwinner, Madhubala's father refused to let her see him or even go on location shooting when the two were signed to co-star in 1957's "Naya Daur" together. This led to two messy lawsuits, the couple's dirty laundry aired in court, and an uncomfortable decade-long shoot for 1960's "Mughal-e-Azam," during which the break-up occurred. Similarly fueling the gossip mill were speculations over actor-filmmaker Raj Kapoor (see below) and his longtime muse Nargis, which likely helped the box office success of their movies for years. But it doesn't get more scandalous than when actress Rekha turned up at a 1980 celebrity wedding wearing rings and sindoor (red powder in the part of a woman's hair, symbolizing marriage), basically announcing her coupling with former screen partner Amitabh Bachchan, who was also in attendance but already married to Jaya Bhaduri. The three even co-starred in 1981's infidelity triangle drama "Silsila," which is as weirdly sensational as if the three-headed tabloid monster Brangelinaniston had agreed to star in a quasi-autobiographical film about their relationships.
The X-Ray Glasses of the Imagination
Victoria's Secret could've made a killing if they'd invested in Bollywood during the '70s and '80s, when the appearance of a plain white brassiere represented the forbidden nature of onscreen toplessness. An actress wearing just her over-the-shoulder boulder holder who turned out the lights, for instance, would be implying that she'd soon be showing her breasts to her lover. If anyone realized the power of such clothed titillation, it was Raj Kapoor, whose films began to push the envelope late in his directorial career. His unparalleled 1973 teen romance "Bobby" made an overnight pin-up sensation of Dimple Kapadia when she appeared in a bikini, and 1978's "Satyam, Shivam, Sundaram" (which faced an uphill battle with the censor board, and was criticized by some as being exploitative) saw Zeenat Aman in a barely-there sari that defied physics by staying on. His final film, 1985's "Ram Teri Ganga Mali" caused further controversy when 16-year-old star Mandakini appeared bathing in a waterfall, wearing only a sheer white sari that made no attempt to conceal her nipples. Today, bikini babes are far more prevalent in Bollywood culture, and 2000's "Hera Pheri" even depicted male sunbathers in bikinis, mistaken as girls from a distance by the film's protagonist.
Lurid Lip Locks
Up until the '50s, if Bollywood stars wanted to express love or even lust onscreen, clasping each other's hands and staring longingly was about as risqué as it got. Hugging and light face caressing became the next leap over the following three decades, but it wasn't until the '90s that kissing was really acknowledged, let alone done. A woman might lean in for lip service, but would shyly run away before the deal was sealed, or else the actual act would be covered by a veil in the moment before, like some "Austin Powers" gag. While this, too, is changing today (superstar actor Aamir Khan even has a kissing clause put in his co-stars' contracts; if they won't kiss him, they can't act opposite him), puckering up can still be contentious. Padmini Kolhapure made headlines when she merely gave Prince Charles a peck on the cheek, and after Aishwarya Rai smooched Hrithik Roshan in 2006's "Dhoom 2," obscenity cases were filed. Most recently, everyone heard about the stir Richard Gere caused in 2007 when he playfully re-enacted his "Shall We Dance?" pose, catching Bollywood star Shilpa Shetty off-guard with a snog during an AIDS awareness benefit. Shetty told the press it wasn't a big deal; people on the streets of Bhopal burned her posters in effigy anyway.