When Films Fall Victim To Bad Timing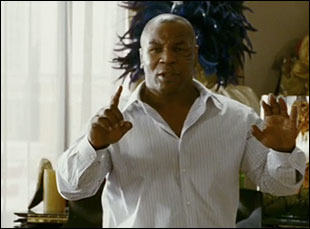 Posted by Matt Singer on
Motion pictures are years or even decades in the making. As much as we like to ascribe credit to directors who manage to capture the zeitgeist — like when Sam Raimi uses a put-upon mortgage broker as the heroine of his new movie right in the middle of an economic crisis fueled by the collapse of the housing market — the truth is, more often than not, a movie's cultural relevancy is a matter of luck and timing. In the case of "Drag Me To Hell," Raimi's film was eerily prescient, but just as often the opposite turns out to be the case.
No one could have predicted, for example, the tragic accidental death of Exodus Tyson, Mike Tyson's four-year-old daughter, or that it would come just weeks after the release of one film starring Tyson (James Toback's documentary "Tyson") and days before another, Todd Phillips' new comedy "The Hangover," that features the former heavyweight boxing champion in a prominent and heavily advertised cameo. Here, now, a few more notable examples of movies struck by (or, in one extremely bizarre case, were aided by) bad luck and unfortunate timing.
"Phone Booth" (2002)
Directed by Joel Schumacher
Larry Cohen first hatched the idea of a film set entirely in a phone booth in early '70s, during a lengthy business lunch with director Alfred Hitchcock. The concept bubbled through his subconscious for years as he tried to solve one question: Why would someone actually remain trapped inside a phone booth for 90 minutes? Decades later, Cohen hit upon the notion of a sniper pinning a man to the phone; he sold the script to Fox in 1999 and the movie, starring Colin Farrell as the man in the phone booth and Kiefer Sutherland as the voice of the sniper, was finally completed in 2002. Improbably, just weeks before "Phone Booth"'s release after 30 years of development (by which time phone booths were rendered a near-anachronism), the Washington D.C. area was suddenly plagued by a pair of snipers, John Allen Muhammad and Lee Boyd Malvo, who killed 11 people before their capture by police in October of 2002. As a result, Fox delayed the film's release from November to April 2003. The coincidence is so absurd, if Cohen had pitched that story to Hitchcock, he would never have believed him.
"Alpha Dog" (2007)
Directed by Nick Cassavetes
When director Nick Cassavetes was prepping his production of "Alpha Dog," a quasi-fictionalized account of a real kidnapping and murder that took place in California in 2000, the man accused of masterminding the crime, Jesse James Hollywood, was still a fugitive from justice. According to Entertainment Weekly, Santa Barbara prosecutor Ron Zonen hoped the film might help their case as "a great 'Wanted' poster" and provided the filmmakers with access to confidential materials in their file.
Hollywood had been missing for years by the time "Alpha Dog" went before the cameras; naturally, it was at this exact moment that he was found and extradited. The film premiered at the 2006 Sundance Film Festival and was being readied for release concurrently with Hollywood's trial, but by that point, the film wasn't so much a "Wanted" poster as a giant monkey wrench tossed into the mechanics of the American judicial machine. When Hollywood's attorneys got wind of Zonen's actions, they tried to have him removed from the case, and later argued to have "Alpha Dog"'s release delayed on the grounds that its portrayal of their client (by Emile Hirsch) would taint the jury pool. Hollywood's case was later reassigned to another prosecutor, but "Alpha Dog" did come out on schedule on January 12th, 2007. Hollywood's trial finally began in Santa Barbara last month.
"O" (2001)
Directed by Tim Blake Nelson
Actor Tim Blake Nelson's debut behind the camera was 1997's "Eye of God," a well-worth-renting adaptation of his own stage play about a small-town tragedy. He was lured back into the director's chair by a chance to take on a somewhat older theatrical work — "O" is an update of "Othello" that, despite flaws, does rather neatly transplant Shakespeare's story to a Southern private school. Its title character goes from skilled Moorish general to basketball star and token black kid in a sea of white privilege; its Desdemona is Desi, the coach's daughter; and its escalating violence plays out with guns instead of swords. It's the last that sealed "O"'s fate when it was scheduled to hit theaters right around the time of the Columbine massacre in April 1999, and distributor Miramax became so leery about the idea of putting out a film that depicted a high school shooting, even in an overwhelmingly negative light, that they canceled the planned release date and were reportedly ready to keep the title on their infamously crowded shelf forever. Nelson made some threatening legal noises, and eventually "O" made it into theaters some two years later courtesy of Lionsgate, where it was a moderate box office success, though probably more due to the casting of then-draws Mekhi Phifer, Julia Stiles and Josh Hartnett than any residual controversy.
"Trespass" (1992)
Directed by Walter Hill
"Trespass" ended up with its generic and misleading title because its original one, "Looters," didn't seem in such terribly good taste after the L.A. riots. But there were other issues that couldn't be remedied by a simple title change — like the film's matching up of black gangsters and amoral white firemen in an escalating battle over some stolen gold. Walter "every film I've done has been a Western" Hill, working from a script by Robert Zemeckis and Bob Gale, was clearly aiming for a no-heroes-here East St. Louis-set update of "The Treasure of the Sierra Madre," but timing made his would-be action movie more racially and politically loaded than the studios could have dreamed, and one can only imagine the squirming of the executives as they screened it, then turned on the TV. "Trespass" was tweaked and bumped from summer to Christmas of 1992 as seasonal counter-programming, where it got little attention — a shame for what's still the only real screen pairing of the chilly rapper-turned-actor dream team Ice Cube and Ice-T.