ALL TOMORROW'S PARTIES – THE FILM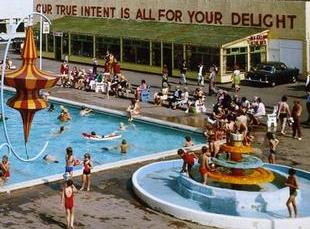 Posted by Brandon Kim on
The concert festival, All Tomorrow's Parties, began in 1999 in England in answer to lame, corporate sponsored events (at say Reading or Glastonbury). It's brilliant locale is some kind of very British Holiday camp, at Camber Sands, East Sussex. Since '99 it's expanded to the US and if you were lucky, perhaps you were at Kutshers Country Club, Monticello, New York last year. But ATP is cool beyond it's idyllic locations, it's curated by a different artist/band each year so not only is it diverse but you get to check out what bands people like Devendra Banhart or Vincent Gallo like freaking out too. ATP notably hosted the return of My Bloody Valentine in '08 and had Nick Cave and the Bad Seeds programme it's debut in Australia earlier this year. Welly, welly, welly, well!
A documentary on this now legendary festival screened at SXSW and just premiered in the UK yesterday at the Edinburgh International Film Festival. It'll have a wider multi-platform release September 23. Battles, Sonic Youth, Animal Collective, Grinderman, Iggy and the Stooges, Portishead, Mogwai, and Grizzly Bear are featured among others. Others like ATP veterans Belle and Sebastian, whom an irritated Spanish roommate of mine once likened to "the sound of shopping for broccoli on a Sunday." I hated him for saying that cause it made me feel like a pussy for liking them. Oh well, they do kind of sound like that.
Check out the trailer, a loving, unabashed rip off of Stanley Kubrick's trailer for "A Clockwork Orange."
More.