Wild Yaks, unsigned, but bonafide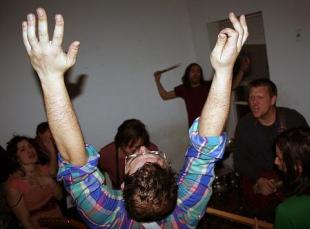 Posted by Brandon Kim on
I wanted to kick off the week with a feral bang, with singing but unsung heroes, so I present to you: the Wild Yaks. The Brooklyn band, as blues as they are punk, have been affectionately, tumultuously, together in some form or other since the Fall of '07. Not that long, but long enough to have proved their meddle. Like a leather pouch of uncut gems found on an old battlefield, I have coveted them, slightly paranoid, fully enthralled. How much suffering and mayhem passed before this moment of discovery? Why aren't there bulldozers tearing up this field for more? Can I keep them?
(Left: Wild Yaks, take me by the hand. Photo by Daniel Arnold)
The Wild Yaks are not the kind of stones you want polished, and you aren't sure you want to know where they came from. They're here now and all yours, that's all you should give a shit about. Singer Rob Bryn, with a heart of gold, brings everything he's got and bares his soul at every show, and on every track. His fellow troubadours, a rowdy but lovable bunch of saxophone slinging, guitar swinging, drum smashing mercenaries all sing their hearts out too. These fellows are the real deal, holding steady even with all the jim jims in this town and all the politicians makin' crazy sounds, and everybody puttin' everybody else down.
Drink this tonic, have a listen:

"River May Come" by the Wild Yaks.
Many of their robust singalongs are rather cinematic sounding, and though there's a distinct melancholy, tend to imbue the spirit with a happy weightlessness. I said they were unsung, that's not exactly true, they have been touted and loved by many, but outside of New York, they remain a buried treasure. The Wild Yaks are unsigned. You should contact them here.
They recorded a new song this weekend and I hope a full length release follows soon. In the meantime, if you have the means, I highly recommend them. They play this Wednesday, May 13 in NY at Pianos.