The Sandbox: "Braid" Forges a Path for Indie Gaming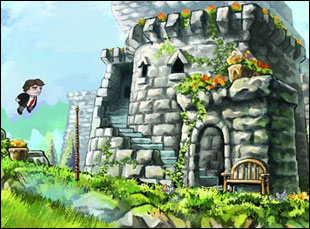 Posted by Nick Schager on
Two columns back, I capped off a discussion about the video game industry's worsening case of blockbusteritis with a plea for a viable indie gaming model like that of the movies. There is an independent gaming community out there, one that's historically existed mostly on the PC, and continues to thrive thanks to sites like Indie Games and TIGSource. What's needed is a more accessible platform, if indie games ever hope to make waves with console owners. And it seems to me that that platform exists today in Microsoft's Xbox Live and Sony's PlayStation Network, two sturdily designed online venues through which people can play multiplayer games with others, rent TV shows and movies, chat with friends and purchase both expansion packs for over-the-counter titles and original games produced exclusively for the service.
It's this last feature that holds the most promise, since the enormous roster of current downloadable games on Xbox Live (over 200 to date) are more often than not the work of independent designers and generally cost no more than ten bucks. Resourceful, talented gamemakers can, in theory, use Xbox Live to bypass the typical retail model and the need to produce something with enough mass appeal to offset high production costs. It allows them to directly pitch their comparatively cheaply produced, idiosyncratic works to a market of more than 17 million subscribers.
Of course, in light of mainstream gamers' infatuation with animesque RPGs and intergalactic FPSs, forming a legitimate indie gaming community can seem like wishful thinking. But there's hope: Xbox Live has already given the gaming world its equivalent to "Pulp Fiction" in the guise of "Braid." Bear with me here — like Quentin Tarantino's 1994 film, Jonathan Blow's rightly acclaimed title (released last August) uses a familiar genre template (a 2-D side-scrolling "Mario"-esque platformer) that it invigorates with time-warping devices, a dose of deconstructive self-consciousness and a dedication to bold rule-breaking that separates it from its more traditional brethren. And just as Tarantino's postmodern classic once and for all brought indie film to the forefront of cinema as a whole, so too does "Braid" feel like the first real opportunity for indie gaming to stake its claim as a much-needed alternative to the AAA franchises that dominate the weekly sales charts.
Self-produced for $200,000 over three years by Blow (a former videogame industry consultant), "Braid" is a game that's at once user-friendly and surprisingly profound, one of the truest marriages of form and content I've ever experienced with the medium. You play as Tim, a nattily dressed man in search of a princess kidnapped by a monster. Starting off on the darkened streets of an unidentified city, Tim travels to a house whose doors lead to different worlds, which he enters after first reading books that give an oblique (and, admittedly, rather pretentiously penned) background on his relationship with the princess, as well as suggest his regret over an unidentified past mistake that caused him to lose her. Each level finds Tim running and jumping to avoid or eliminate "Super Mario"-ish enemies, while deciphering puzzles to obtain jigsaw pieces of paintings that must be completed in order to advance to the next stage.
Fundamental to "Braid"'s gameplay is a time-shifting conceit worked into each of its six worlds. Rewinding time is mandatory, though this mechanic takes different forms, from the straightforward doubling-back tricks of the "Time and Forgiveness" opening level, to the "shadow" self (a mirror image of your past actions) that must be manipulated in the "Time and Decision" fourth section, to the slow-motion effects (produced by a mystical ring) of the "Hesitance" fifth board. Because one can always reverse prior actions, Tim can never die. The result of this time-maneuvering structure is a demanding experience, one that rewards patience and experimentation as well as nimble hand-eye reflexes. And its difficulty is a rebuke to mainstream games whose obstacles are feeble and, consequently, whose rewards are paltry. Blow has gone on record arguing against the use of online walkthroughs (i.e. point-by-point strategy guides) because he feels the entire point of the game's toughness is to allow for a sense of real accomplishment when its problems are solved.