"The Road" : Nick Cave, blow my mind.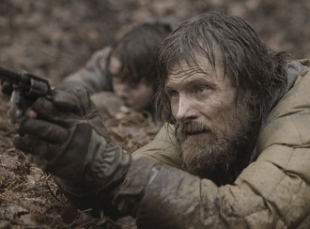 Posted by Brandon Kim on
It seems this much delayed mystery picture by director John Hillcoat has a firm release date of October 16th (latest by the Weinstein Company anyway), and a trailer surfaced last week that on first viewing looks and sounds very promising.
(Left: Viggo as The Man, in John Hillcoat's "The Road.")
The cast is incredible, and includes:
Viggo Mortensen (swordsman, nude fighter, brought back the cleft chin)
Charlize Theron (prettier when ugly?)
Robert Duvall
Guy Pearce
Garret Dillahunt ("Deadwood" multi-role villain, "well that's one fer you Wiald Biell!")
Molly Parker (also from "Deadwood")
Michael K. Williams ("The Wire's" badass, unforgettable Omar)
But most thrilling, at least for my purposes here, is that sometime film composer, Nick Cave has composed the score. The man is a genius. He's collaborated with John Hillcoat before, most notably in Hillcoat's 2005 film "The Proposition" that Cave scored (and wrote the screenplay for). The music in that film, regardless of how good it was otherwise, elevated it into another realm. The crazy trip Cave was on formed the perfect partner to the visuals, soft lyrics whispered of violence and betrayal, and the sheer wattage that accompanied jump cuts to riders on horseback brought the best things about a Western together with a psychedelic experience.
I can't expect the score of "The Road" to be as wild, but from what I've heard it sounds like it'll be intense:
WAIT, is that the Youraagh! scream at 2:03 ?!
It is. Hmm. So at best someone is having a little fun, which seems ill advised in a trailer for a film of this variety. Or the sound editor just came off of "Tropic Thunder" and it's a mistake of habit, or someone is an unimaginative hack, a paint by numbers button pusher. Lap infinity on formula douche.
Help us Nick Cave, You're our only hope.