Summer Preview: Repertory Calendar for the Coasts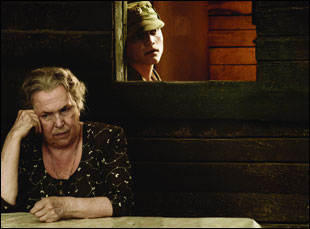 Posted by Stephen Saito on
James Cameron in Los Angeles with 70MM prints of "Aliens" and "The Abyss"?!?! The Dardenne brothers in New York for a career retrospective?!?! The instant cult classic "The Room" with Tommy Wiseau live in Austin?!?! Be still my heart. There's something for all tastes this summer on the West Coast, the East Coast and as you'll notice, the Third Coast on our calendar of the must-see events on the repertory theater circuit in May, June and July. And don't miss our look at the indie films that are hitting theaters or headed to online, VOD or DVD premiere this summer.
With the New York Polish Film Festival (May 6-10) and first-runs of the docs "Ice People" (May 1-7) and "Audience of One" (May 8-14) and Ken Jacobs' reinvention of his 1969 work "Tom, Tom, The Piper's Son" with the 3D "Anaglyph Tom" (May 15-21) taking up the Anthology's screens, things really start to roll around mid-May with a retrospective of Russian documentarian Sergei Loznitza, whose latest collage detailing Soviet history, "Revue" will kick off a weeklong run on May 13, with the director's "Blockade" being shown as a companion piece and his earlier films, "The Settlement" (May 16), and shorts "The Train Station," "Portrait," and "Factory" (May 17) appearing throughout the weekend. It's a nice segue into the Anthology's series "Imperial Trace: Recent Russian Cinema," which runs from May 21st through 24th and includes Alexandr Sokurov's "Alexandra" (May 21 & 23), Aleksei Balabanov's "Cargo 200" (May 21 & 23) and "Brother" (May 22 & 24), Aleksei German's "My Friend Ivan Lapshin" (May 22 & 24), and Nikita Mikhalkov's 1994 Oscar-winning drama "Burnt By the Sun" (May 23 & 24)…For those looking for something more experimental, one needs only to go next door, where the Anthology will be showcasing the work of video collagist Martha Colburn (May 22), Fernand Léger and Dudley Murphy's French Classics of the 1920s (May 23), Cold Cinema: Films by Liz Wendelbo (May 23), avant-garde filmmaker Marie Menken (May 24), and "Descent: Three Stories of Family," a trilogy of shorts that explore the ties that bind (May 24). On May 28th, the Anthology will host another collection of shorts with no such explicit connection, except in their quality, bringing together Guillaume Martinez's "Pen-Pusher," Felipe Canales' "My Mother, Story of an Immigration," Jeanne Paturle & Cécile Rousset's "One Voice, One Vote," Olivier Bourbeillon's "The Last Day," Alain-Paul Mallard's "L'Origine De La Tendresse," and Alice Winocour's "Kitchen" for The World According to Shorts.
The Anthology will close out the month with weeklong runs of Lee Isaac Chung's "Munyurangabo" (May 29-June 4) and begin June with the premiere of Philip Trevelyan's long-lost 1971 doc about an unconventional family, "The Moon and the Sledgehammer" (June 5-11, accompanied by shorts from Ben Rivers, Andrew Kotting and Nick Gordon Smith)…The Anthology's major retrospective in June focuses on gay filmmaking pioneer Rosa Von Praunheim and his films including 1970's "It's Not the Homosexual Who is Perverse, But the Situation In Which He Lives" (June 4), the 2000 doc "Fassbinder's Women" (June 4, accompanied by the short "Can I Be Your Bratwurst, Please?"), 1978's gay liberation historical doc "Army of Lovers or Revolt of the Perverts" (June 5), 1989's "Survival in New York" (June 5), 1992's "I'm My Own Woman" (June 6), 1996's "Transsexual Menace", the live performance "I'm a Tomato" (June 6, featuring Von Praunheim introducing clips), 1978's doc "Tally Brown: New York" (June 6), 1990's AIDS doc "Silence=Death" (June 7, with the short "Germans Taste the Best"), 2007's doc about Von Praunheim's biological parents "Two Mothers" (June 7) and 2005's "Men, Heroes & Gay Nazis" (June 7)…Jean Renoir's classic "The Rules of the Game" is on the docket for June 11th and 12th, and fans of Renoir's fellow Frenchman Georges Méliès will want to stick around for a collection of the movie magician's shorts, divided into two programs on June 13th and 14th. The Anthology will also present a special screening of Yasujiro Ozu's 1942 melodrama "There Was a Father" on June 14th…The Anthology is hoping audiences are drawn to the light of two interesting events in June, the first being All Circuits Off's "Bring on the (Television) Noise" on June 12th, a eulogy for analog TV on the eve of going to an all-digital signal, with plenty of antennaes to play with and mourners to commiserate with. On June 13th and 14th, there will be the celebration of "FLicKeR," Nik Sheehan's doc about Brion Gysin, the creator of the Dream Machine, the trippy stroboscopic cylinders meant to expand consciousness, with an additional program of shorts playing each evening that expand on Gysin's ideas. The same audience might also be interested in the work of Sandra Davis, the San Francisco-based filmmaker whose use of lighting and the rhythm of the body will be on full display during two programs on June 19th and 20th…More experimental fare in June includes Slatan Dudow's 1932 fractured Weimar classic "Kuhle Wampe, Or Who Owns the World?" (June 17-18), a collection of new works from multimedia artists Peter Cramer, Jack Waters, and Marc Arthur (June 18), San Francisco Beat filmmaker Christopher Maclaine's shorts "The Man Who Invented Gold," "Beat," "Scotch Hop," and "The End" (June 20), the Kuchar Brothers's '50s and '60s shorts "The Naked and the Nude," "Pussy on a Hot Tin Roof," "Born of the Wind" and "Tootsies in Autumn" (June 21), Oakland avant-garde filmmaker Sidney Peterson's 1940s shorts "The Potted Psalm," "The Petrified Dog," "Mrs. Frenhoffer and the Minotaur" and "The Lead Shoes" (June 21), Jonas Mekas' long-in-the-making 1969 epic "Diaries, Notes & Sketches (Walden)" (June 25), the films of Sarah Pucill (June 26 & 27), the shorts of underground filmmakers Ron Rice, Hans Richter and Paul Sharits (June 27 & 28), and a DVD release party for the compilation DVD of multilayered experimental filmmaker Henry Hills' shorts (June 28)…The Anthology will also host three evenings of classic silents with screenings of Vsevolod Pudovkin's revolutionary 1926 drama "Mother/Mat" (June 24) and F.W. Murnau's award-winning "Sunrise" (June 25 & 28). In July, the Anthology also plans to screen a weeklong run of "Duck Season" director Fernando Eimbcke's latest, "Lake Tahoe" (July 10-16), and a rare retrospective of reporter-turned-American indie film icon Robert Kramer, with a series running from July 17th through 23rd, featuring a new print of his landmark 1975 drama "Milestones."
Already underway, BAMcinématek is hosting the intriguing series "The Late Film", which features the august work of some great auteurs, including the rare May 5th screening of Jerry Lewis' suicide comedy "Cracking Up", followed by Maurice Pialat's 1992 drama "Le Garçu" (May 8), Ousmane Sembene's final character study "Faat Kiné" (May 8, with an introduction from critic Melissa Anderson), Robert Altman's ballet drama "The Company" (May 9), Ingmar Bergman's 1984 theater drama "After the Rehearsal" (May 9), Robert Bresson's 1983 Tolstoy-inspired drama "L'argent" (May 10), Robert Aldrich's 1981 female wrestling comedy "All the Marbles" (May 11), Michael Powell's "Age of Consent" (May 12, with an introduction from Powell's wife Thelma Schoonmaker), John Ford's 1966 Anne Bancroft western "7 Women" (May 13, with an introduction from critic Elliott Stein), Manoel de Oliveira's 2003 travelogue "A Talking Picture" (May 14), Federico Fellini's "And the Ship Sails On" (May 14), Jean-Luc Godard's "King Lear" (May 15), Alfred Hitchcock's "Marnie" (May 16), Jacques Rivette's 2007 costume drama "The Duchess of Langeais" (May 17, with an introduction from series co-curator Miriam Bale), Yasujiro Ozu's 1959 light drama "Good Morning" (May 18), William Wellman's 1954 gothic western "Track of the Cat" (May 19), Howard Hawks' rarely screened 1965 mish-mosh "Red Line 7000" (May 20) and concluding with the director's more traditional later work, the 1966 John Wayne western "El Dorado" (May 21, with an introduction by critics Andrew Sarris and Molly Haskell)…The New York African Film Festival comes to the BAM Rose Cinemas with screenings of Jose Laplain's "Kinshasa Palace"(May 22), Angus Gibson's "Heartlines" (May 22), Katy Léna N'diaye's "Awaiting for Men with Meteni: The Lost One", (May 23), Ngozi Onwurah's "Shoot the Messenger" (May 23), Lee Isaac Chung's "Munyurangabo" (May 24, with a Q & A with Chung and screenwriter Samuel Gray Anderson), the African Short Program with "Come Back to Sudan," "Le Clandestin" and "This is My Africa" (May 24), Michel Ocelot's 2006 animated family film "Azur and Asmar" (May 25), and Cheik Doukouré's 2003 humanist comedy "Paris According to Moussa" (May 25)…Before Film Forum's July engagement of Ridley Scott's "Alien", BAM has gotten their hands on a print to show as part of their Favorites series on May 27th, followed by fellow fave Jeremy Dean's civil rights doc "Dare Not Walk Alone" on May 28th, with a Q & A with Dean after the screening…BAM will offer a tribute to Egyptian filmmaker Youssef Chahine from May 29th through June 7th, with screenings of 1958's "Cairo Station" (May 29), 1969's "The Land" (May 30), 1978's "Alexandria…Why?" (May 31), followed by 1985's "Adieu Bonaparte," 1975's "The Return of the Prodigal Son", 1972's "The Sparrow", and the last two parts of Chahine's Alexandria trilogy – 1982's "The Egyptian Story" and 1989's "Alexandria, Again and Forever" – in June…To compliment the Muslim Voices Festival, BAM Rose Cinemas will host screenings of Muslim-themed dramas from June 8th through 14th, including 2006's Tribeca Film Fest award winner "Making Of" (June 8), the 2006 Indonesian polygamy dramedy "Love for Share" (June 9), the 2004 Moroccan drama "Grand Voyage" (June 10), the 2004 Syrian drama "Land for a Stranger" (June 11), 2002's French/Tunisian character study "Satin Rouge" (June 12), 2006's Turkish crisis of faith drama "Takva – A Man's Fear of God" (June 12), the 2008 documentary "Heart of Jenin" (June 13), the 1996 Iranian drama "Leila" (June 13), the 2008 historical doc " The Frontier Gandhi: Badshah Khan, A Torch For Peace" (June 14), and Youssef Chahine's 1996 quasi-musical "Destiny" (June 14).
Besides a planned Afro-Punk Festival (July 3-7) and a series compiled from Animation Around the World in July, BAM's major undertaking will be their first BAMcinemaFEST from June 17th through July 2nd, bringing many premieres from Sundance to Brooklyn and offering the first chance to New Yorkers on some of the hottest indies out there, opening with Cruz Angeles' New York-set drama "Don't Let Me Drown" on June 17th. The rest of the lineup includes Andrew Bujalski's "Beeswax" (June 21), the Patton Oswalt comedy "Big Fan" (June 19 and 22), the art doc "Brock Enright: Good Times Will Never Be the Same" (June 18 and 24), "Pusher Trilogy" director Nicholas Winding Refn's brutal prison drama "Bronson" (June 21), Tze Chun's "Children of Invention" (June 18 and 20), Frazier Bradshaw's "Everything Strange and New" (June 21 and 23), Lynn Shelton's comedy "Humpday" (June 20), Paul Saltzman's segregation doc "Prom Night in Mississippi" (June 26), Dia Sokol's relationship dramedy "Sorry, Thanks" (June 24), Nash Edgerton's thriller "The Square" (June 25), the doc "William Kunstler: Disturbing the Universe" (June 20 and June 25, with the latter outside with a filmmaker Q & A), the nutrition doc "What's On Your Plate?" (June 27 outdoor screening), Ry Russo-Young's "You Won't Miss Me" (June 19 and 23), the Zoe Kazan character study "The Exploding Girl" (June 25), the Nicholas Kristof doc "Reporter" (June 26), Armando Iannucci's political satire "In The Loop" (June 20) and Hamid Rahmanian's doc "The Glass House" (June 22). As if the New York premieres weren't enough, the festival's sidebar includes screenings of Jim Jarmusch's "Dead Man" (July 2), Spike Lee's "Do the Right Thing" (June 21), Yuen Chor's "Intimate Confessions of a Chinese Courtesan" (July 2), Luchino Visconti's "The Leopard" (June 30), František Vláčil's "Marketa Lazarová" (June 29), Marco Bellocchio's "Sorelle" (June 30), and an evening with "Christmas Tale" director Arnaud Desplechin on July 1st, with a conversation to commence between screenings of Desplechin's selections of "The Royal Tenenbaums" and "Mississippi Mermaid."