Summer Preview: Anywhere But a Movie Theater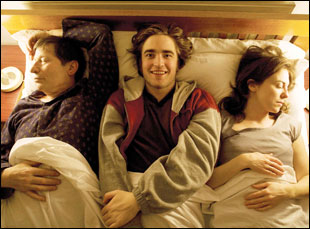 Posted by Stephen Saito on
Whether you're tired of people texting during the movie, want to relax on your couch or have a fear of catching swine flu, there's plenty of entertainment options that you can enjoy from the comfort of your own home this summer, whether it's On Demand, Online, or On DVD. A helpful guide is below, and don't forget our look at the indie films that are hitting theaters this summer.
On Demand
Our sister company IFC Films will have quite the busy summer, providing at least one film a week to watch on demand and nowhere else. The company's Festival Direct summer schedule recently kicked off with the Robert Pattinson teen drama "How to Be," and will be followed on May 6th by the premieres of Pablo Proenza's haunted house thriller "Dark Mirror" and the Patrick Wilson-Amy Smart romantic dramedy "Life In Flight," which premiered at last year's Tribeca Film Festival. On May 13, couch potatoes are invited to "The 27 Club," Erica Dunton's road trip drama about a rocker tasked with burying his best friend after a suicide. May 20th sees the release of the Swedish mid-life crisis drama "Heaven's Heart" and the South Korean horror film "Cadaver." Legendary Hungarian helmer Béla Tarr will premiere his noirish 2007 Cannes entry "The Man From London," starring Tilda Swinton, on May 27th. (Bruce McDonald's zombie thriller "Pontypool" will also be available the same date, in addition to its theatrical run.) Two days before its theatrical run courtesy of Strand Releasing on June 5th, the controversial Maria Bello-Jason Patric drama "Downloading Nancy" will premiere on IFC's Festival Direct. On June 10th, "Fear Me Not," the latest psychological thriller from Dogme alum Kristian Levring ("The King is Alive") that proved popular at Tribeca this year, will debut on demand. "Happy Go Lucky"'s Eddie Marsan and Ewen Bremmer star as historical reenactors who attempt to woo Jessica Stevenson Hynes in the comedy "Faintheart," premiering on June 17th, the same date as the premiere of "Barbarian Invasions" writer/director Denys Arcand's latest melancholy comedy "Days of Darkness," starring Marc Labrèche, Diane Kruger and Rufus Wainwright. And on June 24th, Christian Molina's Gaudí-nominated drama about a French call girl, "Diary of a Nymphomaniac," will hit VOD.
Not to be outdone, Magnolia Pictures will premiere some of their summer slate on demand, including such titles as Steven Soderbergh's just-released "The Girlfriend Experience" (which will be available exclusively in the comfort of your own home until its theatrical debut on May 22nd), Jennifer Chambers Lynch's thriller "Surveillance" (May 29th in anticipation of a June 26th debut) and the Sundance fave "Humpday," which has been reported will play VOD before its release in July.
Online
As Alison Willmore explained back in March, the unconventional distribution outfit B-Side will be working their magic on Brett Gaylor's doc on copyright law in the 21st century, "RiP: A Remix Manifesto," utilizing both screenings of the film (a full schedule is here) and a "pay what you want" deal to download the recent SXSW premiere. Additionally, B-Side will screen the Zach Galifinakis-Judy Greer festival fave comedy "Visioneers" in Chicago on June 18th at the Gene Siskel Film Center. However, like "RiP," "Visioneers" will be available to anyone with the desire to set up their own screening by signing up at the film's Web site.
Cinetic Rights Management is set to raise the curtain on three films this summer that one can watch from the comfort of their computer — on May 8th, "Office" star Melora Hardin will premiere her directorial debut, "You," a true family affair that was produced with her husband Gildart Jackson, who also stars in the film as a man left to raise his young daughter alone after a tragic accident. The cast is populated with familiar faces like "Smallville"'s Allison Mack and Joely Fisher. In June, Brooklynite Dawn Scibilia's Emmy Award-winning doc "Home," featuring interviews with Liam Neeson, Mike Myers and Susan Sarandon, among others, waxing nostalgic about their love of living in New York, comes to your home. And July will see the online debut of Michael Almereyda's latest drama "New Orleans, Mon Amour," starring Christopher Eccleston as a philandering Dr. Jekyll, who plots a return to normalcy in post-Katrina New Orleans with thoughts of reuniting with his ex-wife when Hyde (Elisabeth Moss), the woman who ruined their marriage, reappears in town.
The good folks at SnagFilms will add to their 650-plus documentary film collection this May with the welcome additions of Carl Sagan's epic "Cosmos," the biopic of guitar legend Les Paul, "Les Paul: Chasing Sound" and the cannily opportunistic "Secrets of Angels, Demons & Masons," which should help many make sense of the latest Tom Hanks adaptation of one of Dan Brown's globetrotting novels by catching researcher Dan Burstein's investigation into the real thing. In June, SnagFilms will host the online premieres of two festival favorites — Tim Hotchner's "Accelerating America," an inspirational 2008 Seattle Film Fest selection about a school in Rhode Island that gives at-risk high school dropouts a second chance, and Bob Ray's acclaimed, no-holds-barred "Hell on Wheels," a 2007 SXSW pick that chronicles the birth and revival of the Texas roller derby, scored to Texas-based rockers …And You Will Know Us By the Trail of Dead. And speaking of music, SnagFilms also recently unveiled a series of Jack Johnson music lessons, which can be found here.