Star Trek: Far out theme music since 1966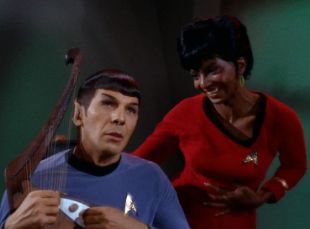 Posted by Brandon Kim on
A spaceship left Earth yesterday at 1:01:56 pm (central time). I found a few minutes to marvel at this and read NASA updates between bouts of rudimentary file upload tech problems the likes of which even the lowest ensign on board the Enterprise could lick in seconds, in a vacuum, with Klingon disruptors melting his keypad. But I'm a fool.
So, pretend drunk on Romulan ale I shuttled off to see "Star Trek," which has always had a special place in my multi-cultural, desire for a better, united Human race heart. And I've always loved the music. I used to watch re-runs of the original series with my older brother in the basement and my "cool" older sister would come down to make fun of us. Like Gene Roddenberry, she made up lyrics to the theme song, but hers began, "You are weiiird, and sooo am I!"
You don't need to own a Klingon/English dictionary or have a TNG uniform hanging in your closet (one of my best friends wears a red Picard one about town, grocery shopping, DJing, sipping espresso outside) to recognize the theme song from the Star Trek films. Jerry Goldsmith's ("Alien," "Poltergeist," "Basic Instinct") original composition from the first 1979 film, "Star Trek:The Motion Picture" is unmistakable. Though only a real Trekkie would know the difference between that score and the main theme for the long running second TV series, "The Next Generation," which uses essentially the same composition.

Themes from the Star Trek films, 1979-2009
All the films inbetween and since borrow from or incorporate Goldsmith's composition somewhere, in fact he scored four of the subsequent films. Of course, it all began with the original TV series theme song, penned by one Alexander Courage, whom Goldsmith frequently employed as his orchestrator. And I think it's the best.

Original series theme. Listen, those little percussive bongo bursts are tough. My sister's lyrics work well with the orchestration, try em out.