A Shout-Out to the Silent Sidekicks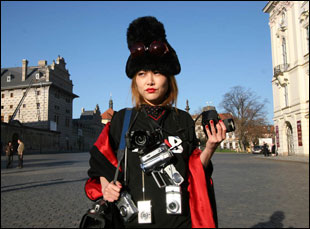 Posted by Matt Singer on
They say in every successful relationship, there's a flower and a gardener — a star and an extra — and that people gravitate toward those who'll let them inhabit their instinctive roles. A similarly symbiotic dynamic is often set up, in film and comedy, between a main character and his or her silent sidekick. The silent sidekick is a somewhat exotic species, but there are enough of them and enough similarities in the function they have played in some famous films and infamous comic pairings, that we decided to take a closer look on the eve of "The Brothers Bloom," which opens on the 15th, and which features Rinko Kikuchi as a bomb-making expert named Bang Bang who speaks, literally, three words of English (or any other language). Below are some of our favorites.
Ben Doyle in "Lightning Jack"
Ben Doyle (Cuba Gooding Jr.) is mute, but he's not deaf, and he's not dumb. Sick of the way everyone in the Old West treats him like he's inferior, Doyle sees his kidnapping by "Lightning" Jack Kane (Paul Hogan) in the middle of a botched bank robbery as an opportunity. Doyle convinces Kane to teach him how to be an outlaw, a decision the movie seems to argue is justified given how badly society has behaved toward him. But if local prejudice drove him to a life of crime, one wonders what illegal course of action Doyle might have taken if he ever saw this movie, where he goes from the butt of a small town's jokes to the butt of an entire multimillion dollar production's jokes.
The whole movie revolves around gags that show how inexperienced and ill-equipped Doyle is for a life as a bank robber. When Kane gets bitten by a snake, he's the one who's got to suck the poison out. When he and Kane are chased through the desert by Native Americans, he falls off his horse. When he's being taught how to use a gun, he's so inept at hitting his target that he's given a pistolized version of a shotgun that can't miss. Then, when they go to rob a bank, Doyle shoots himself in the foot. Director Simon Wincer plays the entire scenario for laughs, all of them at poor Cuba Gooding Jr.'s expense. Apparently it's wrong for Western rubes to laugh at a mute, but it's okay for a movie audience to do the exact same thing.
Bill Murray's pocket-sized sidekick in "Rushmore"
With his baleful glare and skinny, swaybacked stance, the little kid who seems to appear unbidden in several scenes from "Rushmore" has the striking but understated physical impact of a good silent sidekick. Most often seen gravitating to the side of Bill Murray's dejected businessman, Herman Blume, his most notable moment occurs at the birthday party held for the Blume twins, Keith and Ronnie. As Blume nurses his highball, chucking golf balls into the slime-slickened backyard pool, the little kid in a red Speedo and goggles strapped to his head walks up, grabs a golf ball and walks away. Then Blume climbs the high dive in his Budweiser trunks and does a cannonball right into the mire. Retaining the cannonball/fetal position underwater, Blume remains static as the little kid swims into frame and the two share a brief moment, suspended there, and the kid swims away. He's like a perfect, malnourished, mute personification of Blume's diminished id.
Madge Allsop in "Dame Edna's Neighbourhood Watch"
Dame Edna Everage is the best-known creation of Barry Humphries, an Australian comedian who rode a lavender wig, cat's eye glasses and a serious love of gladiolas to enduring fame. Humphries began performing as Dame Edna as far back as the mid-'50s, though it wasn't until he got Edna her first TV series, "The Dame Edna Experience," in 1987 that he brought in a silent sidekick. Conceived of as a "bridesmaid" to absorb all manner of abuse from the imperious Edna, she was called Madge Allsop and played by New Zealander Emily Perry, who started in the role at age 79. Wide-eyed and petite, she had the look of a sweet, blank, gnarled little old lady, but the antic, stubborn habits of a sulky child. Game for just about anything, she also provided Edna with the ultimate in visual punchlines, as evidenced in this clip from Edna's second TV show, "Dame Edna's Neighbourhood Watch," where Madge performs as an "alluring" game show presenter. Perry retired at age 96, and died in 2008, at the age of 100.
Teller in "Penn and Teller Get Killed"
Like a dapper, more dignified version of Harpo Marx, Teller, of the '80s heyday comedy duo Penn and Teller, also controls most of the situations he's in with a cool confidence somehow made even cooler by the goofiness he enjoys so much. Teller, born Raymond Joseph Teller, looks like an accountant and seems to find language somewhat beneath him. His partner, Penn Gillette, is brash and ponytailed and never shuts up. In this scene from "Penn and Teller Get Killed," their first and only feature film from 1989, Teller sets up his partner for trouble at the airport security gate, slipping a small silver ball into Penn's coat pocket, which leads Penn to become increasingly annoyed as he is forced to pass through the metal detector again and again. As Penn's clothes are thrashed off one by one, Teller becomes gradually more clever and effacing in planting the silver ball until he finally just slides the ball alongside Penn's feet through the metal detector. Silence gives Teller a kind of power of invisibility, one he uses, more often than not, to get exactly what he wants.
Piccolo/Ojo in "The Flame and the Arrow"/"The Crimson Pirate"
Nick Cravat had such a thick, unmaskable Brooklyn accent that he often ended up playing mute characters out of necessity — he'd have sounded jarringly out of place in period pieces were he to speak. He acted in nine films with his childhood friend and former trapeze performing partner Burt Lancaster, and played a silent sidekick in the two best known, swashbucklers "The Flame and the Arrow" (1950) and "The Crimson Pirate" (1952). The short, swarthy Cravat stood in sharp visual contrast to the tall, blue-eyed Lancaster, and while the latter wooed the ladies, Cravat performed effortless (and sometimes joyously unnecessary) feats of acrobatics, Loyal to a fault, and generally saddled with some kind of whimsical name (Piccolo, Ojo), Cravat's characters in the two films had the air of something slightly elfin and otherworldly (not to mention vaguely ethnic) — see the way Lancaster lists his capabilities in "The Flame and the Arrow," noting he's "got ears that can hear ahead of the rest of us, like lightning before thunder," that he's able to "see things you and I can't, track a deer by the smell," and on, as if his lack of speech were the natural outcome of so much excessive awesomeness.