Five Rules For Making a Modern Spoof Film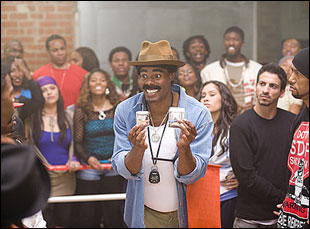 Posted by Matt Singer on
"Dance Flick," from a group perhaps best described as the Wayans Brothers: The Next Generation (Keenen Ivory's nephew Damien Dante produced and directed the film, which stars his cousin Damon Jr.) opens today, the fifth parody movie (or spoof) since the start of last year. This astonishing burst of productivity has coalesced around a new set of rules for making spoof films that places them in stark contrast to watershed predecessors like "Young Frankenstein" or "Airplane!"
Here are five reliable new school spoofing guidelines. There's a 50/50 chance these will work for "Dance Flick" too, though there's only a ten percent chance of that.
1. You can never have too many references.
It's not that the spoofs of yesteryear didn't reference other movies — they did. But they were traditionally woven into the film by way of flashbacks or dream sequences – think of the "Battleship Potemkin"/"Untouchables" opening to "Naked Gun 33 1/3: The Final Insult." Recently, spoofmakers have dispensed with these devices in order to pile on the parodies. A single scene from last year's "Disaster Movie" by Jason Friedberg and Aaron Seltzer contains 14 different pop culture send-ups, including "Superbad," "Wanted," "Juno," "High School Musical" and most surreally, "No Country For Old Men." What does one have to do with the other? Or, for that matter, the notion of disaster movies? Absolutely nothing. At a certain point, all the non-sequiturs become simply nonsensical. But modern spoofs prize topicality over all else; to compete with the immediacy of an ever-shortening news cycle and the world of Internet video, they must sacrifice coherence and selectivity, not to mention the benefit of hindsight.
The spoof genre's epochal texts feasted on the clichés accumulated over decades of formulization. Their creators were historians with senses of humor. Now, spoofers must play cultural meteorologists, forecasting which movies we'll be talking about by the time their next one comes out. Guess wrong, and you get "Disaster Movie," with references to such conversational non-starters as "10,000 B.C.," "The Love Guru" and "Jumper." Perversely, these "timely" spoofs are already more dated than their decades-old predecessors, though they do come close to fulfilling the now-ominous line from the trailer to 1998's "Fugitive" spoof "Wrongfully Accused." "It's not just a movie," it warned, "It's every movie!" Something like "Disaster Movie" very nearly is.
2. Spoofing a celebrity is just as good as spoofing a movie.
True to its title, the trailer for Friedberg and Seltzer's "Epic Movie" promises parodies of cinematic epics as varied as "The Chronicles of Narnia," "Harry Potter," "Pirates of the Caribbean," and… Paris Hilton? Yes, betwixt all the movie spoofs appears a dead-on Hilton look-alike who coos "I'm hot" before getting cartoonishly flattened. She's not the only one, either: the trailer also promises an appearance by a P. Diddy P. Doppelganger, who appears during a "Narnia" sketch, dances around awkwardly and gets smashed in the face with a bottle of Cristal. Sensing a pattern? It goes something like this: dress someone up like a celebrity (like, say, Michael Jackson), drop them into an incongruous movie spoof (like, say, "Speed Racer"), konk them over the noggin (like, say, with the trunk of a car), repeat.
The audience gets hit over the head with this stuff too: despite the fact that the impressions make it perfectly clear who's getting mocked, the filmmakers always have someone announce who they're razzing — "Look! It's Michael Jackson!" — before they do it. There's not much more to these gags than the discrepancy between the celeb and the setting they're placed in, with a couple of outlandish pratfalls tossed in; often these bits smack less of satire than outright bitterness. David Zucker, the old school spooficist behind "Airplane!" and "Naked Gun" series, even deployed an unflattering celebrity impersonation as the lead of his last film, 2008's right-wing diatribe "An American Carol," where Kevin Farley stood in for documentarian Michael Moore. To Zucker's credit, the Paris Hilton cameo in his movie was provided by the real deal.