"hello, my friends come on, have a seat"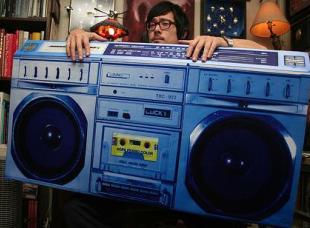 Posted by Brandon Kim on
I came into this world a surprise to a Father who, after 4 kids with his first loving wife, had "fixed" himself, literally. An old school doctor, legend has it he did it one morning in the bathroom at home. Turns out my Mother, though not even very religious, had been praying for a miracle knowing full well of her husband's medical status and surgical dexterity. A biological mistake or divine intervention I cannot say, but one late afternoon in the mid 70's, I was born to a Korean Father and an Italian Mother with "Nights In White Satin" playing on a cassette tape my Mother brought with her to the Hospital.
(Left: You have vastly more mp3's than I, but I do have this giant boombox.)
But this is not about how I was born wearing a white suit singing the Moody Blues or that I'm a musical prodigy. I was not a musical child in the least, and I'm a huge hack with a guitar. Compared to most, I came late to a love for music. Like many, I had older brothers who continuously played the Beatles, Led Zeppelin and Pink Floyd, but music was just something adorning the background. Movies were my thing. I was at the theater every single weekend from age 5 onward, like clockwork, the result of both desire and the planned scheduling that comes with a divorce. It wasn't until my best friend gave me a couple tapes in third grade, that I began to listen to music on my own. Those two tapes, INXS "Listen Like Thieves" and The Art of Noise "Into Battle With the Art of Noise" peaked my interest. Later it was N.W.A. Then it was Nirvana, then Radiohead, then Elliot Smith, then TV on the Radio, these revelations keep coming.
Still, my dirt bike gang, soccer team, search for aliens, and Dungeons and Dragons sessions (and anything else Spielberg totally nails about an early 80's childhood in E.T.) were my focus. Around the same time, we went to see "Conan the Barbarian" and it blew our minds apart the same way "Star Wars" had but I was old enough to appreciate it more completely. Afterward, we had that incredible score by Basil Poledouris (composer of other violent male fantasy films such as "Red Dawn," "Flesh+Blood," "RoboCop,") stuck in our heads. With homemade dogwood bows and toy swords we hummed and yelled that theme song in unison, blood brothers dashing through backyard woods, butchering foes by the score. The lamentations of their women were heard echoing through hill and dale, I can assure you.
That's the first time I recall having an awareness of the combined power of music and film, how it can hold sway over the mind, how it can "magnify" as Cillian Murphy put it to me recently. Of course, the flip side is how ruinous music can be to a film, how quickly a scene can cheapen. In truth, I dislike more than I like. Heavy handed scores and bad trendy songs are too common, but they make the good stuff all the more worth celebrating. I'll be musing about both the good and the bad and talking to people about this oft overlooked intersection of music and film.
Fret not hungry music lovers, I won't be ignoring indie bands in favor of soundtrack reviews or childhood swords and sandals stories. I've worked in film more recently than the music industry, but I was a booking agent/publicist/venue hustler for much longer. I've seen so many shows I'm already half deaf in one ear. The other one I'll be putting to the ground to serve up gems when I can and continue the good work already begun here. I have broad tastes, but find myself returning more to those old roots between new discoveries. Like the Fleetwood Mac song says, "So I'm back to the velvet underground… back to the gypsy that I was." I also like to quote Silver Jews lyrics in blog post titles.
How about you?