Going "Up," "Offshore" and Down to "Hell"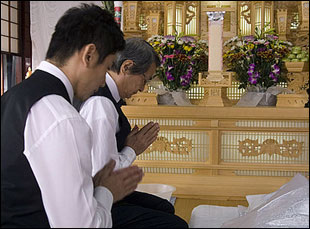 Posted by Neil Pedley on
With Cannes now wrapped up, this week finds everyone on the move as a trio of Indian workers go to Michigan, Sam Raimi goes home and Karl Fredricksen and his yappy companion go, well, up.
Subscribe to the In Theaters podcast: [XML] [iTunes]
"Departures"
Best known as the unknown film that won the Best Foreign Language Oscar, Japanese director Yojiro Takita's tonally eccentric story of guilt and self-realization finally gets a chance to prove its bonafides. Crushed by the dismantling of his Tokyo-based orchestra, newly unemployed cellist Daigo Kobyashi (Masahiro Motoki) returns to his sleepy hometown to work performing burial rituals at a funeral home, a job that slowly transitions from a necessity to a duty to a calling. In Japanese with subtitles.
Opens in limited release.
"Drag Me To Hell"
The first film from Ghost House Pictures to actually be directed by the boss, "Drag Me To Hell" finds Sam Raimi returning to his blood-splattering roots to have some fun. It's an opportunity for him to reintroduce himself to horror's biggest patrons, the gore-hungry teens that are too young to remember "Evil Dead." Alison Lohman stars as Christine, a loans manager who turns down the application of an elderly gypsy woman, only to have the woman respond with a terrifying curse. Credit Crunch Horror — brilliant!
Opens wide.
"Laila's Birthday"
A Palestinian judge forced by bureaucracy to work as a taxi driver in Ramallah, writer/director Rashid Masharawi's hometown, struggles to navigate the daily chaos of the city and purchase a birthday cake for his daughter, something that in an occupied territory becomes a seemingly insurmountable task. Masharawi mixes politics with near-silent comedy touches.
Opens in New York.
"Munyurangabo"
A less than obvious candidate to tackle the tenuous relationship between the Tutsis and the Hutus in Rwanda, New York-based Korean filmmaker Lee Isaac Chung ably illustrates the tensions via the forbidden friendship of two boys who stand on opposite sides of the ethnic divide. Employing a handheld approach that lends the story even more immediacy, Chung's story follows Munyurangabo (Jeff Rutagengwa), who, accompanied by his friend Sangwa (Eric Ndorunkundiye) embarks on a journey of revenge. In Kinyarwanda with subtitles.
Opens in New York.
"Offshore"
Likely due to the success of "Slumdog Millionaire," writer/director Diane Cheklich's 2006 debut has finally secured itself a theatrical run. Equal parts fish-out-of-water comedy and anti-globalization satire, the film tells the tales of an Indian businessman's scramble to assemble a call center and a Michigan worker's struggle to save one. In English and Hindi with subtitles.
Opens in limited release.