Down for you is up: "Adventureland" Soundtrack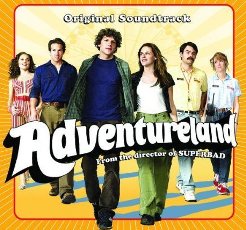 Posted by Brandon Kim on
Movies should be seen on the big screen but given how easy it is to cozy up to the old LCD and just veg, a liberal use of netflix and a Blu-ray player can be forgiven. But there are, in my estimation, two kinds of films that must be seized upon and seen in the theater no matter how fast you can torrent or how sweet your plasma is. The big visual spectacles like "Star Trek," are the obvious ones, and this goes some way to explain that film's spectacular box office numbers.
The second kind are the smaller, smarter films with incredible soundtracks that deserve the splendor of a real theatrical sound system to deliver those brilliant silver screen moments, the ones that feel real, like the truth. "Adventureland" is one of these films. And it's soundtrack kicks ass. I would have said this week's ago but I wasn't up in here yet, and in any case, judging by the box office numbers a grip of people who would appreciate it have not gotten out to see it, are you one of them? Time is running out.
The total gross as of today is a mere $15,768,226… does that even cover the costs of these songs? I'd pay that to have Lou Reed sing a lullaby to me for 3 and a half minutes if I could. The Velvet Underground's "Pale Blue Eyes" is the clear highlight. Lou Reed's ballad about naive true love penned when he was a teenager found a great fit, and in director Greg Mottola hands, got the respect such an archetypal love song deserves. Many will discover it for the first time in the film, for me it was like a happy/sad remembrance.
Mottola recently told IFC's Aaron Hillis, "I almost feel bad for young people today, maybe because I'm sentimental about how we heard music — it just doesn't seem the same to me that anyone can say, "I'll just go to iTunes and download it," rather than to try to tune in to the college radio station that you can only get in the middle of the night because the signal's so weak, and hear these bands for the first time."
I agree, kid's today are eff'd. But a film like this goes a long way. All the rest of the songs are deftly handled too, many of which are actually worked into the script, and become integral little parts to the story. You can't ask for more of a film's relationship to its soundtrack. Quality.
Dig it.

"Pale Blue Eyes" – The Velvet Underground
The full list:
1. Satellite Of Love Lou Reed 3:39
2. Modern Love David Bowie 3:56
3. I'm In Love With A Girl Big Star 1:47
4. Just Like Heaven The Cure 3:32
5. Rock Me Amadeus Falco 3:19
6. Don't Change Inxs 4:26
7. Your Love The Outfield 3:42
8. Don't Dream It's Over Crowded House 3:54
9. Looking For A Kiss The New York Dolls 3:18
10. Don't Want To Know If You Are Lonely Husker Du 3:30
11. Unsatisfied The Replacements 4:00
12. Pale Blue Eyes The Velvet Underground 5:38
13. Farewell Adventureland Yo La Tengo 3:40
14. Adventureland Theme Song Brian Kenney 0:33