Dave Eggers and Vendela Vida Pass "Go"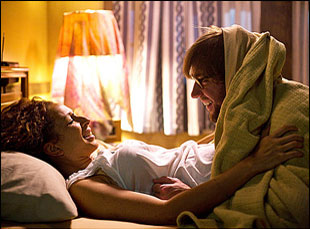 Posted by Aaron Hillis on
McSweeney's founder and editor Dave Eggers has penned six books (including his acclaimed 2000 memoir "A Heartbreaking Work of Staggering Genius"), and his wife Vendela Vida is no slouch herself as a founding co-editor of The Believer with three books to her name (such as New York Times Notable Book of the Year "And Now You Can Go"). But even these two distinguished literary voices admit they'd never have guessed that sitting on their couch, taking turns typing while trying to make the other laugh, would ultimately yield a screenplay for the next project from "Revolutionary Road" director Sam Mendes. A tender, character-driven comedy that's pretty damn hilarious, "Away We Go" stars John Krasinski and Maya Rudolph as Burt and Verona, an expectant couple in their thirties who aren't sure where to plant roots after Burt's parents suddenly decide to move to Europe. Taking off on a cross-country road trip, the two reconnect with family members, friends and co-workers in search of that place you hang your hat — or in their case, bonnet. Eggers and Vida called up to yak about Hal Ashby, undramatic couples, that other 2009 movie Eggers co-wrote and a high-speed threequel you probably haven't seen.
You've said that "very little" of the screenplay is truly autobiographical, so I'd love to know which part that is.
VENDELA VIDA: [laughs] We say "very little" in that we have quite an undramatic relationship. We thought it'd be fun to write a couple who also had an undramatic relationship, and went through life seeing things similarly.
DAVE EGGERS: We have children. That's the only thing we really have in common. We took great pains to say, "Who are these people, and how can we make them as different from us as possible within the realms of realism?" We're older, we're sort of settled, our kids' grandparents live a few minutes away, and so we thought, "What if they were untethered, and had to figure these things out that we luckily figured out when we were a bit younger?" We also made sure that all the characters they meet along the way didn't seem to be anyone we knew. We had a screening here in San Francisco where there were so many friends and family in the audience that we had to clarify before the movie: "It's not about you, or you, or you."
Burt and Verona are certainly undramatic, as you say. They don't even bicker.
DE: We thought it was important. Romantic comedies often have that period halfway, or two-thirds of the way through, where they break up, they walk around separately, there's a montage, one of them goes to a bar, and the other one goes to her parents' or sister's house. That works in a lot of movies. But we thought, with a baby on the way, we hope they're serious enough that they're not trifling with that. What if they just stayed together the whole time? They're side-by-side the whole time, so the drama and conflict come from an outside place.
Did any specific incidents as expectant parents influence the situations you wrote?
DE: Vendela would come home with these incredible stories anytime she went to mail a letter, or anything. There was always somebody putting hands on her, telling her that it's going to be twins, or if she ordered a latte, telling her to make sure that it's decaf. People get really boundary-less. We thought, "Wow, no one's mentioned that before. We haven't seen that in a movie, or even in fiction, really." Pretty soon, we had a lot of different scenes, moments and lines that might tie together in some way. We didn't sit down one day with a project to write a screenplay. We were surprised when we ended up with something that made sense, and very surprised when Sam Mendes called. One of the more surreal days of our lives.
Speaking for one another, how do you fill in each other's gaps as collaborators?
DE: Vendela's better at dialogue. I've always been jealous of her dialogue, and also at remembering funny things that happen in her life — and surgically, just being able to nail a character with one line. I take a lot longer to get to the point. [laughs] We learned a lot about writing by working in this medium because it has to be more economical. Sam taught us so much, "Well, you don't really need this line, this one's implicit, and this one will come across through the performance," and so we kept being able to pare back. He saved us from our worst impulses, and made it a much more elegant script than what we started with.
VV: Definitely. And Dave's really good at knowing how to make something not sound [like] the usual terrain. He's good at saving us a lot of labor writing out a whole scene before realizing it wouldn't work.