Angel Antichrist: Charlotte Gainsbourg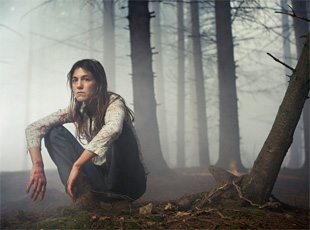 Posted by Brandon Kim on
Many incredible people sit at the crossroads of music and film, most unsung, overshadowed by big stars and bigger products. Some attain a degree of celebrity and some are truly fascinating. But few inhabit these crossroads more provocatively than Charlotte Gainsbourg. And I am not aware of any filler, poor quality or tasteless work to come out of her career as either an actress or a singer (though some would argue appearing half dressed with her Father, Serge Gainsbourg qualifies).
The cool chanteuse and award winning actress ("Jane Eyre," 21 Grams," "The Golden Door") seems to have taken a risk with Lars Von Trier's forthcoming "Antichrist," but makes it all the more alluring, regardless of the horror stories now widely reported. It should also be noted that IFC Films, has picked up the controversial film co-starring Willem Dafoe, which apparently had people fainting in the press screening.
There are a great deal of cojones involved all around, but with names like Von Trier, Gainsbourg and Dafoe, I don't think IFC has gone out on a limb. I expect a disturbing score and a mind blowing experience. A word of advice: don't read too much about it, there are spoilers all over, maybe even here.