When Hearing "Hallelujah" is No Time to Rejoice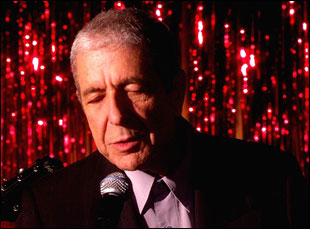 Posted by Brandon Kim on
There's no shortage of songs that get overused on the big and small screen, and whether the result of unimaginative hacks or some ill-conceived notion of what audiences want (uninformed hacks), it's always baffling. Staples like "The Way You Look Tonight," "Let's Get It On" and James Brown's "I Got You (I Feel Good)" should never be heard in a film again. Then there are songs that have been so overused they should never be heard again, period. Bad to begin with, mindless garbage like "Takin' Care Of Business" and "Walking on Sunshine" are musical trans fats — artificial, monetized and bad for society, they should be banned as such.
Leonard Cohen's "Hallelujah" is a different sort of song altogether. It's far from bad, nor is it really a staple that's overplayed its welcome. In fact, it should be acknowledged, once the mind's cleared of the cynicism wrought by overexposure, that it's one of the best folk songs ever penned. That's precisely why, as a soundtrack choice, it must be earned. It's a special song that should be brought out only when nothing else on God's green earth will do. Instead, it's been used and abused dozens of times in both film and TV, in its original form or in one of the over one hundred cover versions that have been recorded.
The first soundtrack appearance of "Hallelujah" that I can find is in "When Night Is Falling," a 1995 Canadian film that centers on a lesbian love affair between a literature professor and a hot carny performer. It's a forgettable cover that takes away all the power of the song and replaces it with a gospel chorus and bongos. A more memorable early use is John Cale's respectable interpretation in 1996's "Basquiat." It should have stopped there, but Cale's cover was used again in the animated feature "Shrek" (though it was Rufus Wainwright's version on the album), the Johnny Depp-directed short stuff, and other titles. It's after this that the primacy of Jeff Buckley's version arises. The first time I heard "Hallelujah," it was Buckley's beautiful voice and melancholy guitar that I fell for. A girlfriend played it for me by candlelight in her bedroom on a cool summer night — a "from your lips she drew the Hallelujah" kind of night. But it seems everyone's had this same girlfriend and this same unforgettable moment with this song. And even Buckley can't keep its potency from fading in everything from an episode of "The West Wing" to the Nicolas Cage flick "Lord of War."
The latest "Hallelujah" shame (and mockery of that once magical evening) is the excruciating moment in which Cohen's original version of the song scores a sex scene in Zack Snyder's recent "Watchmen," which plays out like a bad joke told by a sad clown. Worse, you have to sit there while the sad clown painfully explains the punch line to you when you don't laugh. I also have to mention the completely unearned "The Sounds of Silence" travesty — Snyder, man, you have to earn Simon & Garfunkel.
This easy payoff/Wall Street approach to film soundtracks where nothing is sacred is all too common. But since it's poor form to criticize without offering solutions, here are a few suggestions to consider in place of any iteration of "Hallelujah." Amazingly, none of these have been used before in any film that I can find, or if they have, it was a cover that never should have been made and that's now totally forgotten. At least hopefully — no one should have to recall Blind Melon's take on "Candy Says," as heard in "The Cowboy Way."
The top 5 songs off my record shelf to use in place of "Hallelujah":
"Candy Says," The Velvet Underground
"Dreams," Fleetwood Mac
"Brother," Jorge Ben
"Never My Love," The Association
"New Partner," Palace Brothers
There's another film coming out this week that features "Hallelujah," though co-directors Anna Boden and Ryan Fleck ("Half Nelson") use it sparingly in their forthcoming "Sugar." It's unnecessary at best in a naturalistic film with an otherwise deftly done soundtrack. It's certain not to be the last time we hear the song either — I can easily imagine a future with James Franco as a tragic Jeff Buckley singing "Hallelujah" on some moonlit pier. Oh, the mobs of breathless teenagers, it's inevitable.