"Wanna hear a story… city boy?": The Ten Best Horror Westerns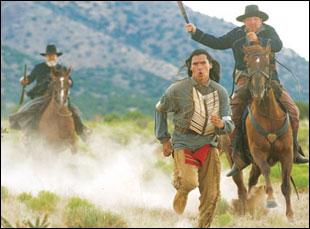 Posted by Sean Axmaker on
Westerns. Horror films. Two great genres that go great together? You would think so. Westerns and horror films are, more than any American film genres I can think of, viscerally grounded in mortality, the vulnerability of human flesh and the primal drive of survival instinct. Whether facing wild animals or bloodthirsty monsters, cold-blooded gunfighters or psychotic madmen, roving bands of raiders or packs of zombies, the heroes of these films fight to live. "It feels like a natural connection. They're two of the most cinematic experiences that you have watching a movie," notes director J.T. Petty. He should know — his film "The Burrowers," which was released on DVD yesterday, is the most recent and one of the most creative approaches to the horror western hybrid, a unsettling monster movie by way of "The Searchers."
Despite seeming ripe territory, there are relatively few horror westerns to speak of, but a healthy resurgence appears to be in the works. The horror western comic book "Jonah Hex" is coming to the screen with Josh Brolin as the lead. The indie film "Death Keeps Coming," about a gunfighter and a gypsy curse, is due out later this year. And last year, "The Descent"'s Neil Marshall announced "Sacrilege," which he describes as a "pitch-black, gritty, period horror movie… 'Unforgiven' by way of H.P. Lovecraft." Here's a countdown of the best, most creative and most distinctive examples (so far) of the horror western:
10. "Curse of the Undead" (1959)
Directed by Edward Dein
From Universal Pictures, home of the great golden age horror movies and the increasingly cheap monster movie team-ups, comes this clever genre mash-up: a gunslinging vampire in a frontier town. Clad in de rigueur black, Drake Robey (Michael Pate) isn't the fastest draw in the West, but when you're already dead, you don't need to fire the first shot, merely the last. The production is strictly B-movie, from the stilted dialogue and sanctimonious stiff of a hero (Eric Fleming) to the generic-looking frontier set, but the bland township of the daytime becomes stark and eerie at night and the vaguely Spanish architecture provides some old world flourish. Director Edward Dein (who also made the minor 1955 cult noir "Shack Out in 101") floats a little fog in for added atmospherics and throws an eerie ambiance into the otherwise conventional soundtrack with otherworldly theremin sounds signaling Robey's appearance. And it offers what may be the first cinematic vampire who can endure (painfully) the daylight, a concept that was revived a few decades later for 1990's "Sundown: The Vampire in Retreat."
9. "Westworld" (1973)
Directed by Michael Crichton
Not exactly a horror film, and a meta-western at best, the terror of "Westworld" is not supernatural but technological: a Wild West frontier town amusement park gone out of control. The place is less a historical evocation than a rollicking movie fantasy come to life, with robots playing the roles of sheriff, gunfighters and dance hall floozies. Yul Brynner plays off his "Magnificent Seven" role as a bionic villain who dies at the hand of every guest who draws on him. When the master control program (an earthbound cousin to HAL 9000?) malfunctions (or rebels?), the gunfighting machine is no longer programmed to lose, and he's out for revenge, a Frankenstein cyborg in black hat and cowboy boots on mission to gun down the greenhorn (Richard Benjamin, a suburban guy playing dress-up) who last killed him. It's as much science fiction as western or horror, but Brynner's relentless pursuit of the thoroughly outclassed Benjamin is unnerving even in the high noon of dusty Western streets.
8. "Grim Prairie Tales: Hit the Trail to…Terror" (1990)
Directed by Wayne Coe
"Wanna hear a story?" This sagebrush twist on the horror anthology draws its title from a play on words with Grimm fairy tales, but these campfire yarns are more conceptual than blood curdling. James Earl Jones and Brad Dourif play travelers and uneasy campmates who swap scary stories over a long prairie night. Dourif is an Eastern intellectual who likes to deconstruct the tales, while Jones is a robust bounty hunter at first confused and then inspired by his companion's commentary, a streak of meta-storytelling that runs through the film. Writer/director Wayne Coe gives a starkly surreal quality to the piece, but the tales themselves are more inspired anecdotes than full-blooded sagas, weird but not particularly compelling. Much more interesting is the way these strangers bond over a shared love of stories and storytelling. What starts off as a sparring match — with Jones doing his best to intimidate and unnerve this city boy — develops into mutual respect and genuine, if fleeting, friendship. The unusual, ineffable chemistry between the actors makes it all work.