Surfers, Dancers and Wolverine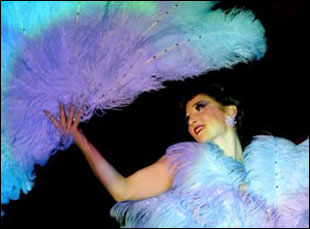 Posted by Neil Pedley on
With Tribeca well under way, there's much in the way of art house fare this week for everyone with a rich international flavor. Go crazy!
Subscribe to the In Theaters podcast: [XML] [iTunes]
"A Wink and a Smile"
Seattle-based documentary filmmaker Deirdre Allen Timmons makes her debut by pulling back the velvet curtain on the world of burlesque, where art and erotica co-exist in the same spectacle. Timmons introduces ten game volunteers, comprised of eager housewives and bored professionals, to Miss Indigo Blue's House of Burlesque, where the ladies find self-confidence and empowerment as they're instructed by Miss Blue in the age-old art of theatrical titillation.
Opens in New York.
"Battle For Terra"
Having spent much of the last 15 years honing his skills as a digital artist on the likes of "Hellboy," effects wizard Aristomenis Tsirbas wields the pixelated megaphone for his feature debut, a futuristic world-at-war saga adapted from his own 2003 short "Terra." Marooned in deep space, the last remnants of humanity, led by the imperialistic General Hemmer (Brian Cox), set about eradicating the population of the peaceful planet of Terra so as to claim it for themselves. On the planet's surface, two rebellious teens (Evan Rachel Wood and Justin Long) do whatever they can to prevent their planet's destruction.
Opens wide and in 3D.
"Eldorado"
Belgian actor-turned-helmer Bouli Lanners' follow-up to his 2005 debut "Ultranova" is a darkly comic road trip that served as his country's official entry to the most recent Academy Awards. Lanners stars as Yven, a disgruntled, middle-aged car dealer who returns home to find a young man (Fabrice Adde) attempting to burgle his house. Rather than calling the police, Yven elects to drive him across country to his parents' place on the French border. In French with subtitles.
Opens in limited release.
"Ghosts of Girlfriends Past"
Employing the template of "A Christmas Carol" peppered with a little Valentine's Day schmaltz, this latest incarnation of the battle of the sexes, courtesy of "Mean Girls" director Mark Waters, arrives in May (obviously!) to once more remind us that women are from Venus and men are from some planet where they embrace commitment like they embrace broadly drawn romantic comedies that patronize them for not embracing commitment. Matthew McConaughey is Connor Mead, a celebrity photographer and playboy who's visited by three ghosts who lead him on a romantic retrospective of his many conquests on the way to his one true love, Jenny (Jennifer Garner).
Opens wide.
"Home"
Mother-daughter bonds run deep in this labor of love feature from writer/director Mary Haverstick. Haverstick's tale of grief and the ravages of disease, laced with her late mother's poetry, finds Oscar-winner Marcia Gay Harden playing opposite her own daughter, Eulala Scheel, in the latter's acting debut. Harden stars as Inga, a spectator to her disintegrating marriage to Hermann (Michael Gaston) following a mastectomy.
Opens in limited release.
"I Can See You"
Writer/director Graham Reznick's no-budget debut is an abstract visceral parody of one of horror's most noted clichés, which Reznick himself describes as "a psychedelic horror experience." "You" is about three fledgling advertising executives (Ben Dickenson, Duncan Skiles, Chris Ford) looking to brainstorm the rebranding of a kitchen cleaner, who naturally decide that the best place to do that is in a cabin in the woods in the middle of nowhere. When one of their girlfriends disappears, another suffers a mental breakdown, and the situation quickly begins to unravel.
Opens in New York.
"Ice People"
Having done much in recent years to bring light to the plight of the Rwandan people, French-American documentary filmmaker Anne Aghion paints a less harrowing but equally compelling portrait of the most inhospitable terrain on Earth. Focusing on a quartet of researchers, Aghion charts the vast, outer reaches of human endurance as the group commit to six months of "deep field" isolation in temperatures as low as minus-60° as they search for fossilized evidence of a once lush and verdant Antarctica that might enlighten us as to the history of our planet.
Opens in New York.
"The Limits of Control"
Through his eclectic career, director Jim Jarmusch's fascination with genre-splicing and casting against type have yielded results good ("Dead Man"), bad ("Ghost Dog: Way of the Samurai") and downright anemic ("Broken Flowers"). This latest effort finds the divisive helmer returning to the theme of the enigmatic stranger operating according to his own mysterious code. Isaach De Bankolé stars as a mysterious loner hired to do a job in Spain, where he encounters a barrage of colorful characters that includes Bill Murray's shady businessman, Tilda Swinton's fixer and Paz de la Huerta's sultry femme fatale. John Hurt, Gael García Bernal and Hiam Abbass round out the supporting cast.
Opens in limited release.