Six Studio Journeymen We Wish Would Return to Their Indie Roots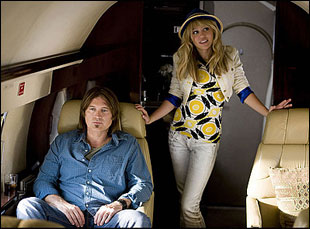 Posted by Stephen Saito on
There was a reason to feel queasy after watching the trailer for "The Hannah Montana Movie," and it wasn't just the sight of Miley Cyrus fighting off Tyra Banks for a pair of garish high heels. No, it was seeing the end credits that read "Directed by Peter Chelsom." That name may not mean much to most, but for those who discovered Chelsom during the mid-'90s by way of his trilogy of Blackpool-set showbiz dramedies — the short "Treacle," 1992's "Hear My Song" and his best, the 1995 Jerry Lewis-Oliver Platt father-son vaudeville comedy "Funny Bones" — an adaptation of a Disney Channel show is nothing short of a crushing disappointment.
Now, times are tough and filmmakers have to eat. And perhaps such disappointment comes as a result of investing too much in the auteur theory, but there is a class of filmmakers whose careers haven't gone the way we thought they would after displaying a unique voice in their earlier work. These aren't directors whose careers have been endlessly dissected by fanboys or film critics, but in recent years they've become strictly hired hands.
Of course, it happens every generation — though he still has an indie streak, Brian DePalma directed "Sisters" for AIP and later was responsible for "Mission to Mars;" Penelope Spheeris went from helming punk pieces like the "Decline of Western Civilization" doc series and "Suburbia" to the much-maligned "The Beverly Hillbillies." More recently, Neil LaBute's mainstream "Wicker Man" remake was about as painful to watch as the two misogynists who tortured their female coworker in his explosive "In the Company of Men" nearly a decade earlier. Here's the current crop of filmmakers who seem like they should have had better things to work on this year than what they ultimately ended up making:
Peter Chelsom
First Directorial Feature: "Hear My Song" (1991)
What He's Doing Now: "The Hannah Montana Movie"
It isn't the first time Disney has made an unconventional choice for one of their prized franchises. Jim Fall's penchant for bright, swirly visuals was the only obvious explanation for how the director of the 1999 gay satire "Trick" landed the gig for 2003's "The Lizzie McGuire Movie." But the selection of Chelsom is pretty much the final nail in the coffin of a long, dark chug of a career once filled with enormous potential. It was likely Chelsom's light touch with magical realism and sly sense of humor that attracted such talent to his films once he arrived in Hollywood during the mid-'90s. It was just as likely those same sensibilities that saw his first major big-budget productions, "The Mighty" and the notorious "Town & Country," get re-edited by the Weinsteins and Warren Beatty, respectively, and bomb anyway.
Traces of Chelsom's eccentricity can still be seen — Beatty has a surreal scene in "Country" where he's dressed as a polar bear and fools around with Jenna Elfman's Marilyn Monroe in the snowy forest as his children watch, and Chelsom's follow-up "Serendipity" wouldn't have worked without the director's whimsy — but his remake of "Shall We Dance?" marked the end of any sense that the director's quirks were more intriguing than annoying. Now, with "The Hannah Montana Movie," he's gone from working with leading men like Beatty and John Cusack to Billy Ray Cyrus and the only "Achy Breaky Heart" here is ours.
Mark Waters
First Directorial Feature: "The House of Yes" (1997)
What He's Doing Now: "Ghosts of Girlfriends Past"
Incidentally, it was Mark Waters' work for Disney that afforded a second act to his career, which was floundering after he made a splash at Sundance with the bold (and slightly incestuous) "The House of Yes" and then directed the romantic comedy, "Head Over Heels," which featured Monica Potter as a mousy restoration artist who falls for Freddie Prinze, Jr., before realizing he might be a serial killer. Needless to say, it didn't make a killing, but Waters' re-do of "Freaky Friday" for the Mouse House suggested that he could marry his quirky, often macabre sense of humor with formulaic studio comedies to wonderful effect. His encore with "Friday" star Lindsay Lohan, "Mean Girls," confirmed that.