Settling the Score With Linda Cohen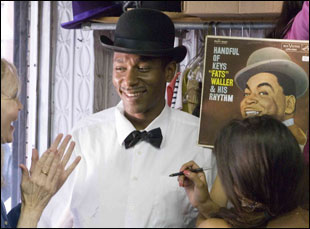 Posted by Brandon Kim on
[This article is part of our Radiohead Fanatic Fortnight — check out our box set giveaway here.]
The role of a music supervisor on a film can vary, usually depending on how proactive the director is about the music he or she envisions in the film. Some directors make integral music choices from day one, and others have their music supervisor to make those decisions for them. Either way, putting it all together is a job that's crucial to any film, yet often goes unnoticed. Linda Cohen is a music supervisor whose work has clearly not gone unnoticed. I got to talk with her about the business, sitting in a bathroom with Stephin Merritt and of course, Radiohead's Jonny Greenwood, who is apparently as professional and nice a lad as he appears.
In the interest of getting a peek at the kinds of things that someone of Cohen's caliber gets to see and hear, I asked her to tell me about some of the films she's worked on and to reveal some of her favorite things about them. Here are some of the films and her fond memories:
"Be Kind Rewind"
"Be Kind Rewind" had a really fun soundtrack, obviously very influenced by [jazz pianist] Fats Waller, who's integral to the storyline. One of the highlights of working on this film was organizing a recording session with Michel Gondry [on drums] and Booker T & the MG's at the legendary Fantasy Recording Studio in Berkeley [where Booker T & the MG's recorded in their early days]. We recorded two period songs, "I Ain't Got Nobody" and "Lulu's Back In Town," that Fats Waller himself played back in the day. Michel is a huge Booker T fan, so this was something of a dream come true for him to get to play with them. Booker T & the MG's also have a small cameo in the film [when Danny Glover's character goes on the train ride with his friends to mark the 60th anniversary of Fats' death.]
"There Will Be Blood"
This was an extremely exciting project for me to get to work with Paul Thomas Anderson and Jonny Greenwood. I didn't know until I worked with Jonny that he had written his own classical works before. His classical pieces have been performed by the BBC orchestra in Britain and broadcast on BBC Radio — and naturally because of this relationship, we used the BBC Concert Orchestra to perform the film's score. We recorded at Abbey Road Studios. Paul had temp [scored] the film with a lot of modern classical works and Jonny's music ended up working so well that only two of these classical pieces remained in the film and the rest was all Jonny's score. Jonny Greenwood is so amazingly talented, and his music is so much a character of the film. He did a great job.
"Nick and Norah's Infinite Playlist"
This was a dream project for me to work on, given my love of indie music. Here was a film centered around kids going to clubs in New York one night in search of their favorite band's secret show. We put 36 songs in this film! as music is the backbone of the story. There was on-camera music to coordinate for performance on screen, which is always fun to do. The music that Michael Cera's on-screen band plays was written by Anna Waronker [the former lead singer of that dog.] and Steven McDonald [the bassist for Redd Kross], and we chose the New York band Bishop Allen [pictured right] to perform in the club after Cera's band finishes. Another highlight was getting the band Vampire Weekend to record a song for our film. They were on tour at the time, so [they] literally recorded the song in New York, did more work on it at [our composer] Mark Mothersbaugh's studio in Los Angeles, yet more work at Peter Gabriel's studio Real World in England, and finally mixed the song in Paris. It was a very well-traveled song! It was also exciting for me to pick the songs for the soundtrack, which includes music by Devendra Barnhart [who has a cameo in the film], The Raveonettes, Band of Horses, Modest Mouse, The Real Tuesday Weld and more. The album was the number one soundtrack on iTunes when it came out.