Scores That Pop from Composers of Pop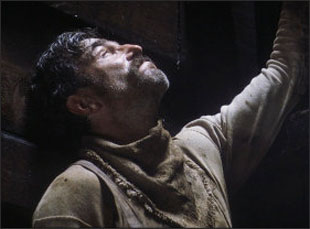 Posted by Brandon Kim on
[This article is part of our Radiohead Fanatic Fortnight — check out our box set giveaway here.]
Jonny Greenwood, Radiohead's lovable multi-instrumentalist, turned heads with his score for Paul Thomas Anderson's austere critical favorite, "There Will Be Blood." Immediately upon the film's opening scene, Greenwood's orchestration inflames the parched western landscape, superheating it with a man and his struggle to extract a profit from it. Greenwood uses an array of strings to strike an incredibly enormous, unsettling chord, the effect of which is to fuse the two — the man and that broken landscape — as it builds into an alarming cacophony. From this, the character of Daniel Plainview is forged, without a lick of dialogue or any emotive gestures. Nor is there a particularly distinct costume or a queerly menacing haircut involved. Just wordless deliberate action in a barren place, moved expertly along by a score that seems so well-crafted for the particulars of the story that it's surprising to recall some of it was actually written entirely independent of the film.
This is, of course, why Greenwood was ineligible for an Oscar nomination for best original score in 2008. His composition, "Popcorn Superhet Receiver," was composed earlier, though much of the score was indeed created specifically for the film with the BBC orchestra with whom Greenwood had already fostered a relationship as a resident composer in 2005.
Greenwood is far from alone in making the crossover to film scoring. Laying down their axe to try out the pen, many rock and pop artists have paved the way, some becoming better known as composers than they were as rock stars. The omnipresent Danny Elfman was once only the lead singer for Oingo Boingo. Randy Newman's beginnings were as a pop singer/songwriter long before settling into his niche as Pixar's troubadour. Peter Gabriel first tried his hand at composing for film in 1984's underappreciated "Birdy," went on to score "The Last Temptation of Christ" (and of course, recently wrote the Oscar-nominated tune "Down to Earth" for "WALL-E," though he didn't score the film).
Stewart Copeland may be best known as the drummer for The Police, but he's a prolific composer, having so far scored over 70 films and TV shows, with "Wall Street" being an early notable in his long career. The themes in that Oliver Stone film are as played out as a Kenny G song, one of which it uses, but otherwise it's a nice coming together of some epic musical talent in David Byrne, Brian Eno and Copeland. It also features the brilliant Talking Heads song "This Must Be The Place (Naïve Melody)," making it something of a music department supergroup of '80s Hollywood.
David Byrne composed some of the music for 1987's "The Last Emperor," which earned him the Academy Award for best original score, along with collaborator Ryuichi Sakamoto (who also had a role in the film), another pop musician turned composer. Sakamoto's electronic band Yellow Magic Orchestra heavily influenced Japanese pop in the '70s and '80s, their influence extending worldwide with the release of their second album, "Solid State Survivor," which gained notoriety when Eric Clapton covered a track off the record, "Behind the Mask." (Clapton, too, has dabbled in film scoring, though he hasn't branched out much further than the "Lethal Weapon" franchise and scores for Gary Oldman's "Nil By Mouth" and Stephen Frears' "The Van.")
New Wave nerd punk god Mark Mothersbaugh of Devo has scored more films than anyone could have imagined upon first seeing him crack that whip in the late 1970s. A strange turn for the bespectacled former art student, who's scored everything from episodes of "Pee Wee's Playhouse" to video games like "The Sims" series. Most notably, he's been creating compositions for Wes Anderson's films ever since 1994's "Bottle Rocket," though the director's rock and pop hit heavy soundtracks tend to overshadow them.