You Know Your Band Has Made It When…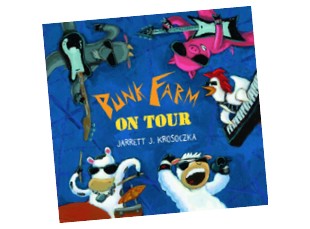 Posted by Jim Shearer on
Like many other music-minded New Yorkers, I'm in a band. I do it mostly for fun, but, yes, there are some afternoons where I daydream of selling out an arena show, leaping into an adoring crowd, and being passed around from the floor all the way to the upper-deck seats in section 808?
(left: What's inside may surprise you.)
Chances are that will never happen (geez–booking a Friday night gig in the city may never happen at this point in time). Even though Deck-of-Jack (oh yeah, that's the name of my band) may never tour the world or share studio time with our favorite musical artists (sorry Steve, I don't see you ever getting the opportunity to jam out with Jimmy Page and Robert Plant), we have accomplished a feat other artists can only dream about: we've made it into a children's book!
That's right sucka, our band sticker made it into the backstage area of a Punk Farm concert. If you don't have children, you may not know that Punk Farm is a series of picture books that tells the story of a punk band consisting of a sheep, a pig, a cow, a chicken, and a goat. The author of the books, Jarett J. Krosocka, is a friend of our drummer (the one who's probably never gonna rock out with Led Zeppelin), but we were never included in any of the books until he attended one of our live performances–fittingly in the basement of CBGB's. I'd like to believe if we had a crappy performance, we wouldn't have been given the honor.
The book we're included in–Punk Farm On Tour–was released in 2007, but I just recently saw our sticker for the first time. A whole bunch of friends and family are currently having babies, and my wife suggested I impress the infants with a picture book featuring a bumper-sticker-illustration of my band.
We may not be big now, but just give us 16 years (the perfect amount of time for our infantile fan base to turn into teenagers), and my dream of body surfing to the upper deck may become reality.
(below: Read it and weep, that's Deck-of-Jack in the centerfold of a kid's book!)